Argentina's Lionel Messi looked on from the stands for as long as he could, but with 10 minutes remaining he had seen enough.
Cameras captured the injured captain leaving his seat, presumably to head for the dressing room to console his distraught teammates, but the image was symbolic as his hapless team were humiliated 6-1 by a rampaging Spain side.
"They've really given us a slap in the face," was how stunned Argentina coach Jorge Sampaoli summed up the humiliating World Cup warm-up defeat in his post-match news conference.
"I feel bad for the boys, I take the responsibility. In the second half we didn't have balance or solidity and we were all at sea."
Argentina may have swept Italy aside 2-0 on Friday without Messi, who has a muscle injury, but context is required given that the Italians failed to reach the World Cup for the first time since 1958 after a 1-0 playoff defeat by Sweden.
Granted, there was no Angel di Maria or Sergio Aguero for Argentina on Tuesday either but when it came to the crunch, the players wilted. Too often they rely on their Messi 'get out of jail' card.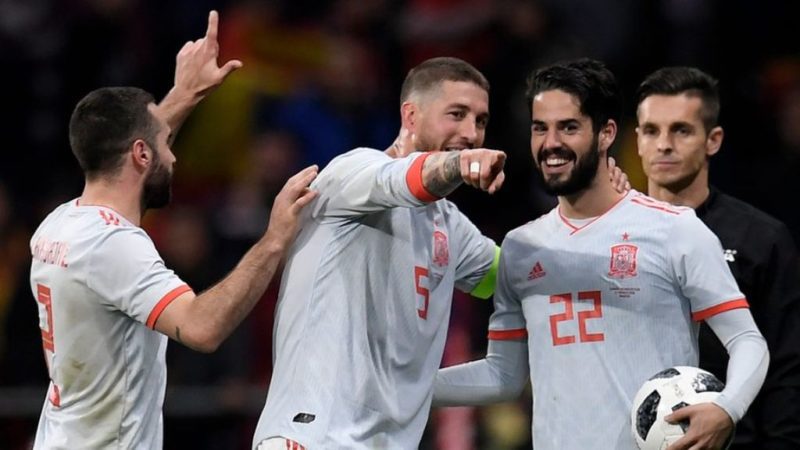 It was Messi who fired a hat-trick in their final qualifier against Ecuador – after they went 1-0 down inside the first minute – to secure their spot at the World Cup in Russia.
Without him against top level opposition in Madrid, Argentina wilted and to describe their defending as haphazard is generous.
Sampaoli may have a squad that allows him the luxury of leaving the likes of forwards Mauro Icardi and Paulo Dybala at home but on the other hand neither of their goalkeepers – Sergio Romero and Willy Caballero – play regularly for their clubs.
"Argentina is going to be living in torment from now until the World Cup," former international Jorge Valdano said on Spanish radio station Onda Cero.
"Messi's the only reason that anyone is even giving Argentina a sliver of hope of winning the World Cup. [Striker] Gonzalo Higuain is a marked man in Argentina and I wouldn't like to be in Sampaoli's shoes either."
Many pundits suggest Messi cannot be considered a truly great player until he achieves something with Argentina. However, judging by Tuesday's performance he has already achieved a lot in helping Argentina reach the finals.
How far they go in Russia will surely be dictated by the form and fitness of the Barcelona forward as they prepare to face Iceland, Croatia and Nigeria in the group stage.
Source: AAP
www.sports24ghana.com