By El-Amisty Nobo & Frederick Marfo
Former undefeated boxer and five-division champion Floyd 'Pretty Boy Money' Mayweather Jr. was caught in a heated verbal exchange with Liam Walsh's two brothers; Ryan and Michael.
Mayweather is in London with Gervonta Davis, who defends his IBF super-featherweight title on Saturday, May 20 against Liam Walsh at the Copper Box Arena but the press conference turned ugly as both champ began to use foul words against each other.
As Ryan and Michael kept infuriating Mayweather, the former pound for pound king said, "I'll slap both of you pussies."
"I am 40 and I'll beat all three of your asses on the same night," Mayweather angrily said.
"Frank Warren [Walsh's promoter], why did you even sign these two pussies? both of them are bitches," Mayweather responded to Ryan who screamed that the former champion never fought outside the United States of America.
"I better not catch you in the US. You better get those two little leprechauns out of here before they get slapped.
"Last time you had an undefeated fighter here was Ricky Hatton and you know what I did to him? I knocked him out," Mayweather reminded the two brothers.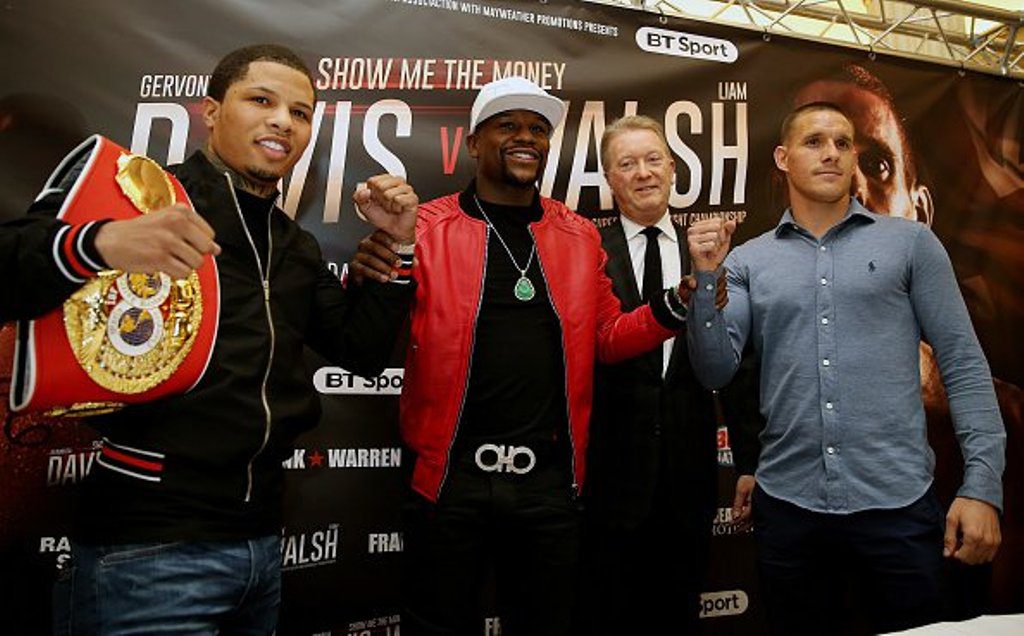 Meanwhile, Liam Walsh quickly explained the difference between the two boxers soon after the fighters' face-off.
"We are the complete polar opposite. Some people are that poor that all they have is money. I'm not that poor.
"My family, my happiness, my health is paramount in my life and that is all that matters to me. Everyone needs money, but it's important to have your focus and your true values on other things.
"I'm not one bit intimidated, not one little bit, not by Floyd, nor 'Tank' – referring to Davis.
But Mayweather quickly responded saying, "We will take your cheque.
"One thing I learned, when it's time to cut the lights off when the bills are due, you can't go tell the bill man 'I love you' and they'll keep the lights on, so remember that.
"I am known for dishing it out. I already conquered your country once and we're going to conquer it again on Saturday," Mayweather assured.
Follow Amisty on twitter @ElAmistyNobo
www.sports24ghana.com