Less than 18 months after sensationally knocking England out of Euro 2016, Iceland qualified for the World Cup for the first time on Monday following a 2-0 win over Kosovo.
Needing victory to guarantee top spot in European qualifying Group I, goals from Everton star Gylfi Sigurdsson and Johann Gudmundsson ensured Iceland would be on the plane to Russia 2018.
"I thought after Euro 2016 that the hardest thing would be to motivate ourselves again," admitted Iceland coach Heimir Hallgrimsson.
"The first beer after a party is not the best. The hardest thing was to get going again after our massive party in France.
"And what's more in a group contested between Croatia, Turkey, Ukraine and Finland, who are much better than their position in the group would have you believe.
"The success is not an end in itself but a long journey towards a final destination."
It was only two years ago that Iceland qualified for a major finals for the first time, taking advantage of a tournament expanded to 24 teams but nonetheless knocking out the Netherlands in qualifying.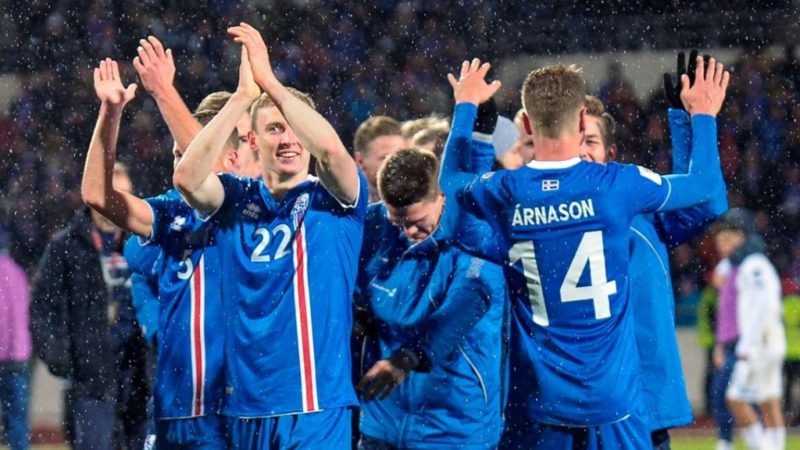 From there the team from the tiny island of just 330,000 people stunned Europe by not only negotiating their group but also upsetting England in the last 16, before going out to hosts France in the quarter-finals.
Now, the World Cup in Russia will also be graced by the popular northern Europeans and their colourful fans who started a clapping trend at the Euros that is sure to make its mark next year.
The fireworks blazed into the sky at the Laugardalsvollur stadium after Hallgrimsson's team completed their expected victory over the European minnows Kosovo, ranked 184 by FIFA.
Despite gleaning only a single point from their first ever qualifying campaign, Kosovo's coach Albert Bunjaki said Iceland's success could be an inspiration to his fledgling team.
"Congratulations to the whole Iceland team and to Icelanders," said Bunjaki, whose country's population is around six times larger than Iceland's.
"It's a great example for small nations like our own who aim to have a good team, well organised, in the future."
The result left Iceland ahead of Croatia, Ukraine and Turkey after yet another impressive qualifying campaign.
Source: AFP