By El-Amisty Nobo| Follow Amisty on twitter @ElAmistyNobo
Like a pregnant cat in a midnight fight, Briamah 'Bukom Banku' Kamoko had not lost a single bout not to talk of being knocked out in his professional boxing career prior to his cruiserweight non title contest with Bastie 'The Beast' Samir at the Trust Boxing Emporium in Accra [Ghana] on October 21, 2017.
The fight, which was code named – 'Make or Break' could not start without an amateurish controversy in the ring as the camp of Briamah Kamoko raised protest over the size of Bastie Samir's gloves.
After few verbal exchanges and consultations, Bastie Samir nonetheless accepted to wear the appropriate gloves meant for the said weight category [cruiserweight].
Bukom Banku as usual, was the first to thrill the humongous crowd who had thronged the Bukom Boxing Arena with some great piece of boxing artistry winning the first two rounds [10-8], [10-9] respectively, but every student of boxing knew the journey would be rough for the talking rookie should the contest exceed round 2.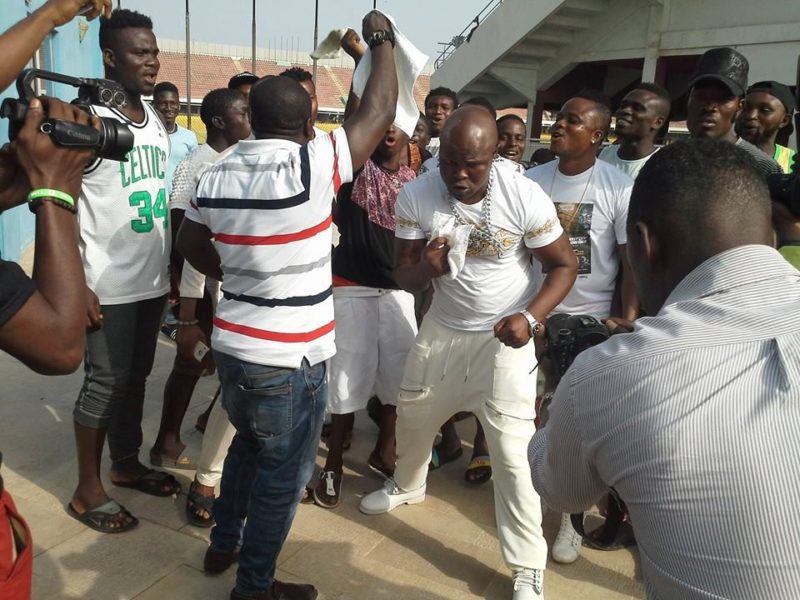 The shape of the fight, however, began to tilt in favour of the former captain of the Ghana Black Bombers – Bastie Samir from round 3 where an unexpected left hook shot from The Beast saw Bukom Banku hitting the canvass with extreme shock writing all over his face.
With Bastie in control of the ship, Briamah Kamoko was finding it difficult to throw his power punches having been neutralized by The Beast' close up moves from round 4 to the sixth round.
The Beast [Bastie Samir] divided the seventh round into two subplots, dazing Bukom Banku with a delicious combination of 15 jabs and 10 powerful shots in the first stanza before flooring him with another combination of 4 jabs and two hefty right punches.
In the end, it was the man who has eaten from the same plate with Floyd Mayweather Jr. – Bastie Samir, who won the bragging right over the self acclaimed African Mayweather – Bukom Banku.
Follow us on twitter @sports24gh| Facebook – sports24gh
Email: sports24ghana@gmail.com| info@sports24ghana.com
www.sports24ghana.com