Kenya's Hellen Obiri emerged triumphant from a fierce battle with defending champion Almaz Ayana in the IAAF World Championships 5000m final.
The pair had essentially left the rest of the field fighting out for bronze when they broke away around the 1400m mark following a start which Britain's Eilish McColgan later described as being at 'walking pace'.
Ayana, who had already secured the 10,000m title at these championships in utterly emphatic style, made her move as she attempted to put a stranglehold on the race, but was shadowed every step of the way by Obiri – until they hit the back straight of the final lap.
It was at that point that the Kenyan produced a kick which her Ethiopian rival simply couldn't match and streaked away to win in 14:34.86. Ayana, without a great deal of race time this season after battles with injury, clocked a season's best 14:40.35 while Dutchwoman Sifan Hassan's late, emphatic charge secured her the bronze medal in 14:42.73.
For Britain's Laura Muir, there was to be no medal from her double attempt at 1500m and 5000m – on this occasion there was sixth place and a Scottish outdoor record of 14:52.07 to show for her efforts instead. McColgan came within fractions of her personal best in tenth place with 15:00.43.
The searing closing pace – Obiri covered the last km in 2:44.70 and produced a 60-second final lap – was in stark contrast to the beginning of the race as the field appeared to almost be plodding their way around, the first kilometre being covered in a fraction under 3:19.
It did not take much longer for Ayana and Obiri's patience to wear thin and they suddenly injected a pace which very few of the others could live with.
Ethiopia's Sembre Teferi attempted to hang on but instead found herself at the head of a second group containing Hassan, whilst a third group including Muir, McColgan and the rest of the European contingent emerged as the field began to string out.
Muir began to gradually move her way up the field, as did McColgan, but the next big move came from Hassan, who found an extra gear to glide out into third on her own. Indeed, such was the pace of her closing kick, it had looked at one stage that Ayana's second place might be under threat.
In the end, Hassan ran out of track with which to catch her rival, while Obiri's closing burst had put the identity of the winner beyond absolute doubt.
"I was telling myself to go," said the Olympic silver medallist. "I could see Ayana was not going so I thought, why not? I am mentally strong so I knew I was capable.
"When I crossed the line I was extremely happy, and just wanted to celebrate. All my emotion came out. I wanted the 5000m gold a lot."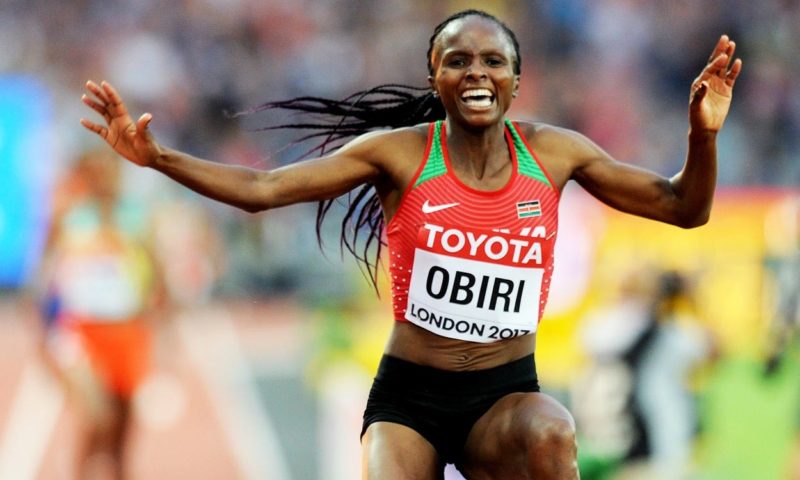 For Ayana, there were no regrets concerning her race tactics
"It was a difficult race," said the Olympic 10,000m champion who also took 5000m bronze in Rio. "I am better at leading it to get the win rather than challenging in a final sprint. It was difficult to push Hellen through to the finish line
"Compared to Rio this is a bigger achievement. I've had many injuries this year so I am very happy with two medals.
"I have been injured for the whole season and haven't been able to get over it. The pain came back after the 10,000m. I did my best today but Hellen was too good at finishing. It was all I could today. But I won't give up going for 5000m and 10,000m. I won gold and bronze in Ro and now gold and silver, so this is a step up."
There was much to reflect on for Muir, who had to deal with the agony of just missing out on a 1500m medal earlier in the championships. The British indoor 5000m record holder was able to find a number of positives in what she admits has been a learning experience.
"It was always going to be Obiri and Ayana," said Muir. "When they went I knew not to panic too much. I think I raced it really well and I'm happy with how it went as a final."
She added: "It's an outdoor personal best. I ran two seconds faster indoors but that was off metronomic pacing, whereas that race was so slow off the start. If it hadn't have been I definitely would have ran a personal best.
"It's been tough, maybe more physically than mentally. I've enjoyed the opportunities so much to come out here and give the two events a shot, and I'm really happy I placed highly in both."
Source: Euan Crumley| AW