Saul 'Canelo' Alvarez concedes that Gennady Golovkin may possess a strength advantage in their Las Vegas middleweight title fight.
Kazakh knockout artist Golovkin's IBF, IBO, WBA (Super) and WBC middleweight belts will be on the line at the T-Mobile Arena on September 16 – with the pound-for-pound top ranking also anticipated as a prize for the winner.
Mexican star Alvarez will look to become the first man to beat the 35-year-old Golovkin, and believes that, despite being the smaller man, his technique and sharpness will be pivotal in a bout that he believes is the biggest of his 51-fight career.
"Speed will be a big factor, an important factor in this fight," said Canelo. "Look, I've had big fights, important ones in my career, but this is the most important, the most dangerous of my career at the moment, and I'm taking the challenge.
"My team and I know this is 14 years worth of work. It's a great responsibility, but we are ready for it. I see it as a fight which there will be a before and after Canelo.
"Maybe he's stronger than me, maybe.
"I think though that being stronger than me doesn't mean he punches harder than me.
"I have intelligence, and you have to be precise of when to land your punches so they are the same power wise like his or stronger."
Both men have been vociferous critics of the Mayweather-McGregor show that has preceded them in Vegas, but Alvarez is happy operating under the pressure of trying to wrestle attention away from the crossover bout.
"Yes, I know how to handle all of this," Canelo said of the pressure both men are under. "The experience I've had is the training. Training gives me confidence. KO or decision, it's all the same to me. For me, it's all about winning. That's most important.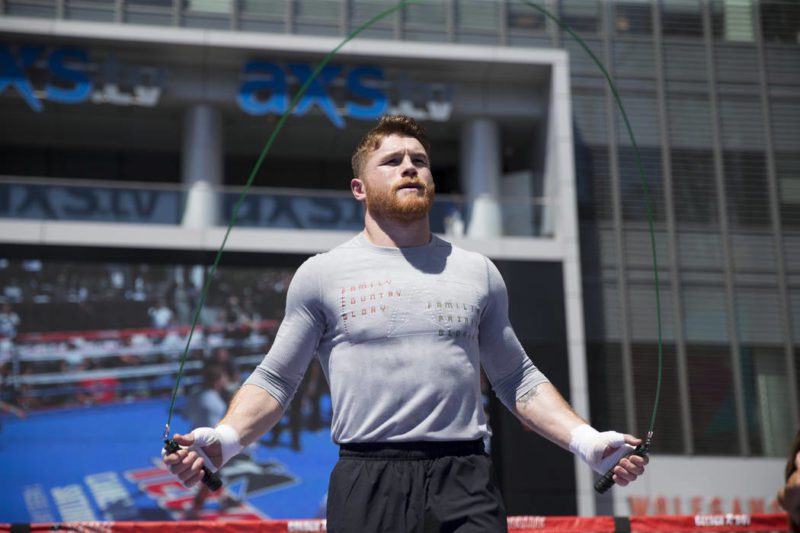 "The people say the winner of this fight is pound-for-pound number one, so we are ready for that.
"There's always fighters in their prime, but this is my moment, my era, and that's how I take it."
Golovkin pegged the fight at a similar level of importance as his opponent, suggesting that a rare discerning approach to choosing a dance partner could be the launchpad his career needs.
The Kazakh is the defending champion and racked up 23 straight knockout victories before his unanimous decision win over Daniel Jacobs in March, but has taken second place on the billing for this bout as he prepares to make his Las Vegas debut.
He said: "The last couple of years we just fought anybody. Right now, I don't know who is number two or number three, I know just Canelo and me.
"Who [will] win? [People will] probably say [the winner is] pound-for-pound king – not for me – this is the biggest fight for history, biggest fight for Mexico, so many people [will] watch this fight. This is a true fight.
"It is the biggest fight of my career. Canelo is the biggest champion and the biggest name out there."
Source: Omnisport