Gennady Golovkin is the longest-reigning champion in boxing, holding at least one or more of the middleweight title belts since Aug. 14, 2010, when he knocked out Milton Nunes in the first round at Roberto Duran Arena in Panama City to capture the interim WBA crown.
More than seven years later, Golovkin will risk the IBF, WBA and WBC belts in a Sept. 16 megafight against Canelo Alvarez at T-Mobile Arena in Las Vegas that has the potential – the likelihood, perhaps – to go down as one of the most exciting fights in recent history.
Golovkin trainer Abel Sanchez compared Alvarez-Golovkin to epic matches such as the 2005 bout between Diego Corrales and Jose Luis Castillo; the four-bout series between Manny Pacquiao and Juan Manuel Marquez and the trilogy between Marco Antonio Barrera and Erik Morales.
"It's going to be that kind of a fight," Sanchez predicted.
It was just five years ago today, on Sept. 1, 2012, that the unheralded Golovkin made his U.S. debut. He faced Grzegorz Proksa on HBO at the Turning Stone Casino in Verona, New York, in his first time in front of an American audience.
And while it was a wildly successful debut by most standards – Golovkin won by fifth-round TKO after dropping Proksa three times in a fast-paced bout – it was still in the early stages of Sanchez's transformation.
Golovkin and Sanchez were in just their fourth fight together after first teaming up in 2011. Golovkin had a decided European style and Sanchez wanted to remake him in the mold of the legendary Mexican superstar, Julio Cesar Chavez Sr.
"Chavez had that kind of methodical style that I thought I could teach Golovkin," Sanchez told Yahoo Sports on Friday. "Because of his size, I thought most middleweights would be bigger than him. Eventually, when he had to move up, super middleweights would be bigger. But Chavez went real well to the body and that was attractive from the standpoint of adding it to what Gennady did. The thing Chavez didn't have that this kid has is the power in both hands.
"I thought that by having him inside and having him muscle guys on the inside, where he'd be able to shift over and use angles, that would be very effective. And of course I was just adding to the boxing ability he brought with him."
In that Proksa fight, Golovkin scored knockdowns in Rounds 1, 4 and 5 and captured the imagination of American boxing fans with his power and his relentlessness.
It was the first step on the path that has brought him face-to-face with Alvarez in the most significant fight in boxing. Though he earned wide praise for that effort, it was not all that Sanchez had wanted.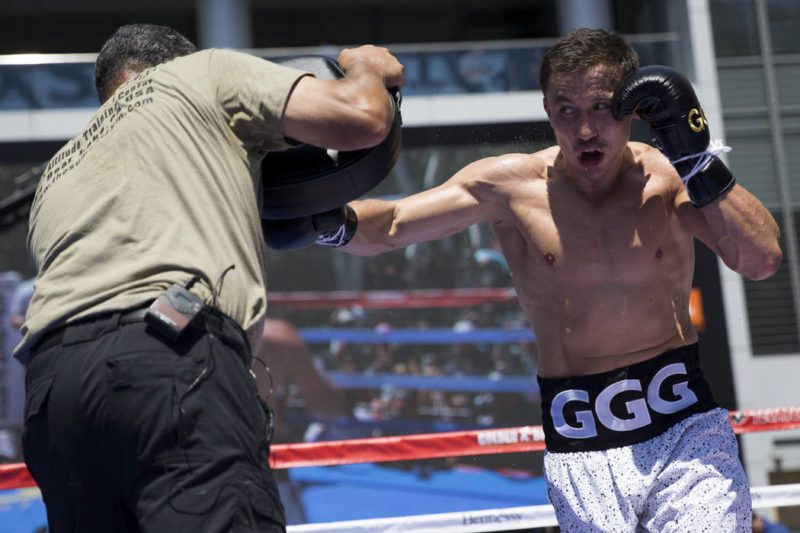 "Five years ago, I thought we had the potential to change a lot of things from what was in Europe," Sanchez said. "I think that was my fourth fight with him and there were things I wanted to work on to modify in what he was doing.
"His aggressiveness was good, but to be honest with you, that aggressiveness was misdirected at times in that fight. There were moments where I thought maybe he got a little wild. But that was the progression and now I think he's more of a patient fighter and he picks his spots real well."
Golovkin has been chasing a megafight since that night he destroyed Proksa, and it's taken him five years to get it. Not getting the fights he wanted even put a damper on him, Sanchez said.
He's received criticism for his performance in his last two outings. He brutally beat Kell Brook in their bout last year, but Brook hit Golovkin more than he'd been hit during the Sanchez Era. And there are many who believe that Daniel Jacobs defeated Golovkin when they met on March 18 in New York.
Sanchez, though, has a simple explanation for those performances. He's come a long way since the Proksa fight and he's eager to prove himself on the highest level.
On a conference call, Golovkin said, "Seriously, right now, I want to start and I want to win this fight because maybe for me this win will be like a historic fight, like [Sugar Ray] Leonard versus [Marvelous Marvin] Hagler. … And Canelo, he's a very special guy. Right now for us, [this fight is] huge. Especially for me, it's huge."
And that, Sanchez said, is why he expects Golovkin to put on a jaw-dropping performance on Sept. 16.
"This is the fight he's been waiting for and this is the one that everyone says is the fight that boxing has wanted," Sanchez said. "The last three, four fights, they weren't motivating for him. Even though Jacobs is a big guy, and Jacobs was the regular champion, it just wasn't the fight that was being called for.
"It was a fight that was forced upon him and the motivation factor was a little bit different. The motivation in this one is an entirely different thing and so we may see the kind of fight we did in the beginning of his career, like the Proksa fight, the [Martin] Murray fight, where he has great motivation and goes out and tries to destroy somebody."
Source: Kevin lole| Yahoo