With just four weeks to go until the start of Gold Coast 2018, and to mark International Women's Day, the Commonwealth Games Federation [CGF] today announced that the XXI edition of the Commonwealth Games will be the most gender equal in major multi-sport event history.
Equal Medals for Women and Men
For the first time ever, there will be an equal number of women's and men's medal events at a Commonwealth Games. As a core part of the CGF's far-reaching gender equality strategy, the Federation approved seven additional women's event categories to the Gold Coast 2018 sports programme to ensure that men and women compete for an equal number of medals (133 women's events; 133 men's events; 9 mixed/open events). The strategy, launched at the 2016 CGF General Assembly in Edmonton, Canada, strives to ensure that women and girls are equally represented, recognised and served across all areas of the Commonwealth Sports Movement. It also sets the benchmark for gender equality standards seen anywhere in international sport.
Louise Martin, President of the CGF said: "International Women's Day is the right time to reflect on how far we have come with gender equality and how far we still have to go to ensure real balance and fairness in both sport and society. The Commonwealth Sports Movement is proud to be setting the pace for equal gender representation and opportunity in sport, by ensuring that an equal number of medals will be up for grabs at Gold Coast 2018 for women and med. With significant steps forward like this, we believe our unwavering commitment to gender equality is a core value that differentiates the Commonwealth Games from any other international sports movement. Indeed, it is our committed work in areas such as gender equality that make the Commonwealth and Commonwealth Sports Movement more relevant than ever before."
Gender Parity of Technical Officials
For the first time at a major international multi-sport event, the International Federations for Basketball, Hockey and Swimming have confirmed that at least 50% of their technical officials presiding over the sporting action will be women. The announcement supports the collective mission of the Commonwealth Games Federation (CGF), the Gold Coast 2018 Organising Corporation (GOLDOC) and its international sporting stakeholders to ensure the that the Games set an international benchmark as the most gender-equal multi-sports event ever seen.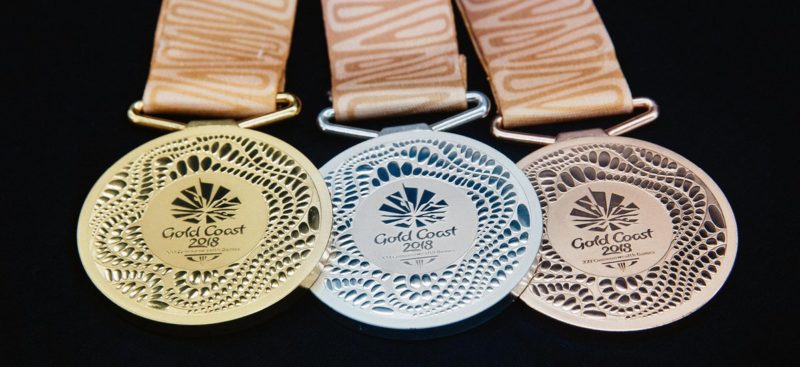 David Grevemberg, Chief Executive Officer of the CGF said: "As a Movement, we are proud to be leading the way in international sport for gender equality. I think we all agree we need to do more to redress the imbalances for women and girls in sport, leadership and society. I am delighted that our committed partners at FIBA, FIH and FINA have joined the CGF to lead the way in sport and ensure a level playing field for women technical officials at Gold Coast 2018. It is also pleasing to see so many other sports make such positive strides to allow more women than ever to preside over sports officiating and judging at the Games".
The largest jump in female technical officials comes in Rugby Sevens, which will see the number of women officiating at Gold Coast's Robina Stadium increase to 33% compared to 5% at Glasgow 2014*. A number of other sports have also achieved major progress with significantly more women represented across their pool of technical officials. Wrestling has increased its number of female technical officials from 13% to 32%, whilst increases for other sports include: Lawn Bowls from 28% to 42%; Rhythmic Gymnastics from 86% to 100%; Badminton from 32% to 41%; Triathlon from 33% to 42%; Weightlifting from 34% to 43%; Para Powerlifting from 32% to 39%; Table Tennis from 26% to 32%; and Boxing from 13% to 18%.
As another key component of the Gender Equality Strategy, the number of men officiating at Diving, Netball and Artistic Gymnastics will also increase from 28% to 41%, 21% to 28% and 47% to 53% respectively. The strategy also recognises that longer-term partnerships will be required to develop and ensure the availability of more women technical officials across many sports within the Commonwealth, particularly from smaller nations and territories.
Women's Coaching Internship Programme
The CGF has also implemented its Women Coaching Internship Programme for Gold Coast 2018. A central part of the CGF's Gender Equality Strategy, the Women's Coaching Internship Programme will help build women's coaching capacity across the Commonwealth, and in turn stand to benefit athletes from all Commonwealth countries and territories.
Under the innovative programme, Commonwealth Games Associations (CGAs), in partnership with one of their National Sports Organisations (NSOs), will have the opportunity to fully integrate an aspiring female coach in their Gold Coast 2018 coaching team. As such, the CGF has reserved 20 quota positions and travel grants for the programme at the Games.
In addition to the recruitment of technical officials, equality of medal opportunities and promotion of coaching opportunities, the CGF Gender Equality Strategy supports and influences the participation and representation of women and girls across broadcast and media, marketing initiatives, volunteering and governance at the 2018 Games and beyond.
Source: CGF
www.sports24ghana.com