Antigua and Barbuda lived up to its promise of delivering a 'Relay with a difference' when the Caribbean nation hosted the Queen's Baton as part of its tour of the Commonwealth.
While still incorporating a traditional relay, the focus was on spending quality time at small events taking place throughout the vibrant capital city of St John's, where locals and athletes enjoyed interacting with the Baton.
National sporting federations and associations greeted the Queen's Baton at various sporting facilities, historical sites and places of interest as part of a special program dubbed 'Things Uniquely Antiguan and Barbudan'.
Often known as the 'Gem of the Caribbean', the twin-island paradise lies right in the heart of the Caribbean, full of charm, rich history and culture. It's where the locals preach 'the beach is just the beginning'.
Kept busy on its first day touring the country, the Queen's Baton's spent time in the hands of local volleyball and basketball teams, as well as the junior national men and women's football squads.
As the temperature soared later in the day, the Baton took to the shade at the Antigua Athletics Club, where the annual mini meet was taking place with local swim schools from across the island.
Next, the Baton stopped at the Queen Victoria Park Botanical Gardens, where last year Prince Harry visited and unveiled the plaque for the Queen's Commonwealth Canopy (QCC) project. The QCC is a unique network of forest conservation initiatives that involves all nations and territories of the Commonwealth.
The Baton finished a long day of relaying at the ruined fortress of Shirley Heights and enjoyed the panoramic views as part of the popular Sunday Sunset event, where hundreds of holidaymakers saw the Queen's Baton light up against a bubblegum pink sky.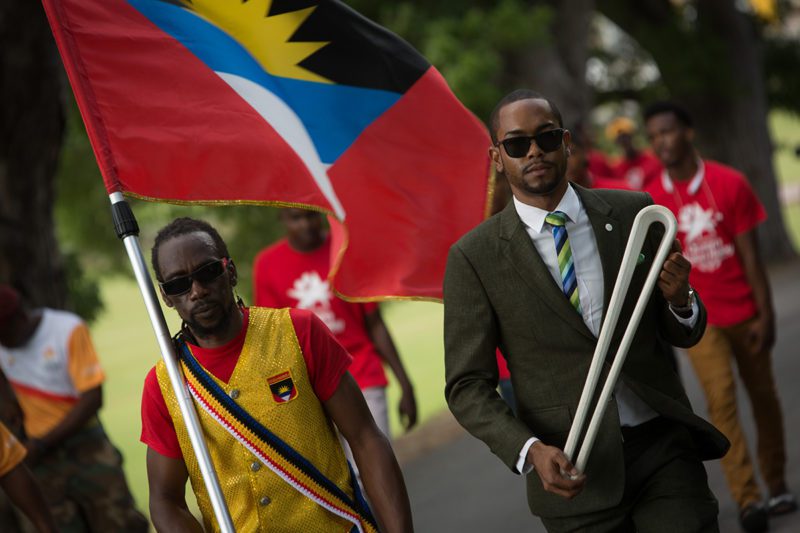 After a whirlwind day in Antigua, the Baton then travelled to the beautiful sister isle of Barbuda, with its endless kilometres of white sand beaches. Young track and field athletes relayed the Baton across the coral island to the largest Frigate Bird Sanctuary in the Western Hemisphere to see the rare birds in their natural habitat. The Baton also took time to visit the Martello Tower, a former British defense fort and Princess Diana Beach, one of the late princess's favourite holiday destinations.
Other highlights from the Baton's visit to Antigua and Barbuda:
The Queen's Baton spent the afternoon at the Antigua Yacht Club during sailing training.
The crashing waves at the natural attraction of Devil's Bridge was a dramatic backdrop with young fencers and members from the Taekwondo federation getting the opportunity to hold the Baton.
A stop at the twin sugar mills of Betty's Hope allowed the shooting federation a chance to learn about the Baton and GC2018.
The Baton visited the fascinating UNESCO World Heritage Site, Nelson's Dockyard, the only working Georgian naval dockyard in the world.
www.sports24ghana.com