A Spectacular course has been unveiled for the Gold Coast Commonwealth Games, proving a winner with athletes, fans and city officials.
The flat and fast course, which mirrors much of the regular Gold Coast Marathon route, will be a winner with athletes and fans, while the picturesque coastal route will provide the city with worldwide exposure for its iconic beaches.
The marathon will be held on April 15, the final day of the event and includes the first wheelchair race in Commonwealth Games history in another marker of the Gold Coast's standing as the most inclusive Games ever.
The 42.195km road course will start and finish at the Broadwater Parklands, just north of the regular Gold Coast Marathon site and will take athletes to a northern turn at Runaway Bay before heading to Burleigh along a beachfront route.
With the marathon one of the free events on the Games program, thousands of fans are expected to line the race route to create a memorable atmosphere for the athletes on the final day of competition.
Gold Coast Games organising committee [GOLDOC] chief executive Mark Peters said the marathon would "provide a great opportunity for the whole community to witness and celebrate sport at its finest".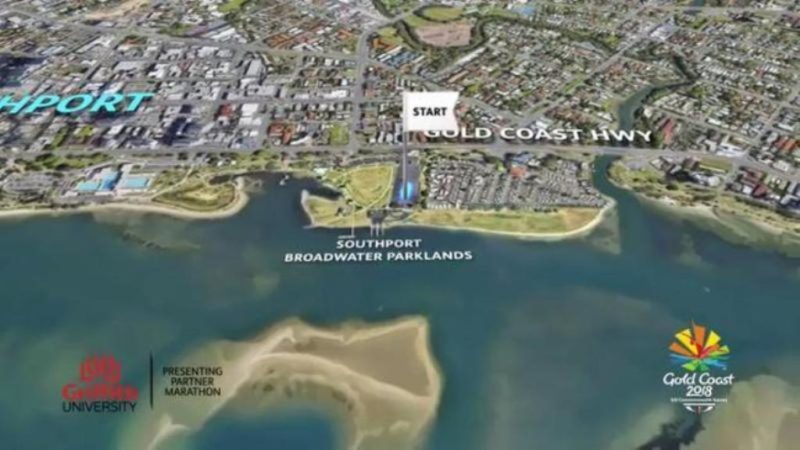 "The wheelchair marathon will be staged for the first time at a Commonwealth Games, adding to what will be an exciting program of road races on the final morning of the Games," Peters said.
"The atmosphere and colour generated from a big crowd along the course will contribute to a memorable finale to the Games."
Paralympic legend Kurt Fearnley said the chance to compete in a marathon with his able-bodied peers was outstanding.
"The wheelchair marathon at these Games presents a first for me as an athlete," Fearnley said.
"In all my years racing around the world, this is the first time I get to share the same stage with my able-bodied peers whilst racing in the green and gold for Australia.
"I love the opportunity of being able to start this race just moments before the able bodied runners.
"I'm in a privileged position as part of the GC2018 Sport and Technical Committee and am now even more excited to get on that starting line."
The wheelchair marathon will start at 6.10am, with the women's marathon at 7.20am and men's marathon at 8.15am.
Source: Emma Greenwood| Gold Coast Bulletin