The Premier League made a thrilling return, and Arsenal finally had something to celebrate on the opening weekend.
It took the arrival of Aaron Ramsey and Olivier Giroud from the bench in the second half to turn it around against Leicester and give Arsenal only its second opening-day victory in eight seasons.
In the league's first Friday night start, Arsene Wenger's side was trailing 3-2 with seven minutes remaining but Ramsey grabbed the equalizer and Giroud headed in an 85th-minute winner.
"We kept going and the spirit of the team was absolutely outstanding," Wenger said. "If you look at that from a neutral point, for a first game it was a top quality game.
"You want the Premier League to be the best league in the world and I think it has to produce these kind of games to produce interest and quality."
Even if the thrilling attacks were aided by such fragile defending.
Arsenal record-signing Alexandre Lacazette launched his English league career in style by heading in the opener after 94 seconds.
A predictable Arsenal implosion followed, with Shinji Okazaki and Jamie Vardy putting Leicester in front. Even after Danny Welbeck leveled on the stroke of halftime, Vardy restored Leicester's lead after the break. Leicester was heading for something it didn't even achieve in its astonishing 2015-16 title-winning campaign: a win at Arsenal.
"We saw it though for 83 minutes," Leicester manager Craig Shakespeare said, "and to concede two late set-plays in the manner we did is obviously hard to take."
Instead, Wenger avoided a third consecutive season-opening loss at the start of his new two-year contract.
The Frenchman will be hoping it's a sign of changing fortunes after a season when he reached his nadir. Although Arsenal signed off in May by lifting the FA Cup, a fifth-place finish ensured the north London club failed to qualify for the Champions League for the first time in two decades.
This was the perfect lift-off for Arsenal, particularly for Lacazette.
The first touch from the 60 million euros ($68 million) signing was at kickoff. His second was to meet Mohamed Elneny's cross with a powerful header past goalkeeper Kasper Schmeichel.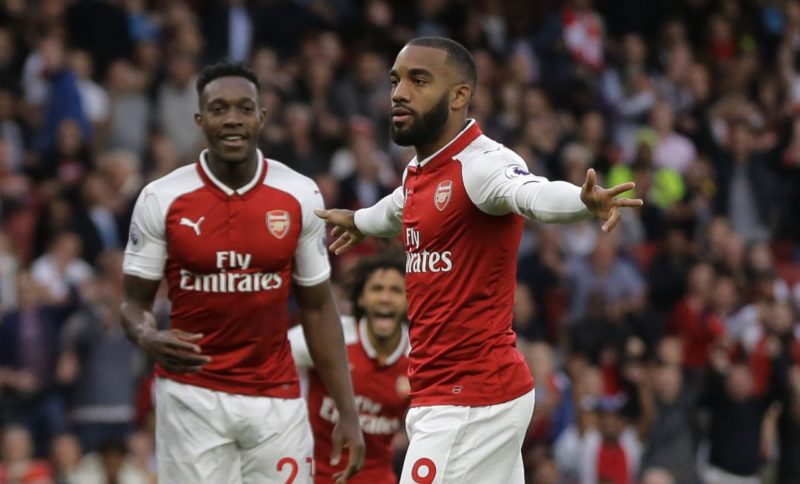 Lacazette, recruited from Lyon, savored the moment, opening his arms out wide to take in the acclamation of his new home.
Arsenal's defense, though, was still on its summer break.
Just 160 seconds after Lacazette scored, Arsenal goalkeeper Petr Cech was picking the ball out of his net. Harry Maguire nodded Marc Albrighton's cross back into the path of Okazaki who headed Leicester level.
Before completing a half-hour of the season, Arsenal was trailing. Again, Albrighton was the architect, afforded far too much space to rampage down the left flank before crossing low for Vardy to turn the ball into the net.
How quickly optimism faded as Arsenal's enduring defensive flaws were exposed so soon. There was a lifeline for Wenger before halftime when Welbeck met Sead Kolasinac's cross to tap in an equalizer.
Leicester, however, was back in front 11 minutes into the second half.
Cech initially tipped over Riyad Mahrez's shot but the latter turned provider from the resulting corner. The defense failed to check Vardy ghosting into the penalty area and the striker was unmarked as he nodded in the corner.
"We're top of the league," Leicester fans chanted for the first time since May 2016 when their club was in possession of a Premier League trophy that Arsenal has not lifted since 2004.
Leicester couldn't stay on top, though. Schmeichel's saves were keeping Leicester in front but he was beaten when Ramsey got on the end of Granit Xhaka's cross and, again, when substitute Giroud headed in a corner.
"It was the first game of the season," Cech said, "and it was a classic for everybody to watch."
Just not the type of display necessarily that delivers titles.
Source: Rob Harris| AP