Ghanaian kickboxer Gerald Dah has arrived in Ghana after a three year sojourn in the United Arab Emirates UAE which further took him to other countries.
Dah returned to Ghana on Tuesday from Dubai and was welcomed at the airport by the President of the Ghana Kick Boxing Association, Nii Adotey Dzata I (Joe Mingle) and his family as well as friends of kickboxing, the media and the Ghana Boxing Supporters Union (GBSU).
The Ghanaian who is based in Dubai beat China's Hu Haiwen on December 30, 2017. Dah dropped Haiwen three times enroute to winning the Fight Time championship trophy at Daye jing Stadium in Wuhan Province.
Answering questions from the media, he said, "The first time I participated in China I beat my opponent, but in China if you don't knock your opponent they will not give it to you, but I told them next time when I come i will knock my opponent. So I went back to Dubai and trained very hard for it. On December 30th I went back to China and by God willing I knock my opponent out."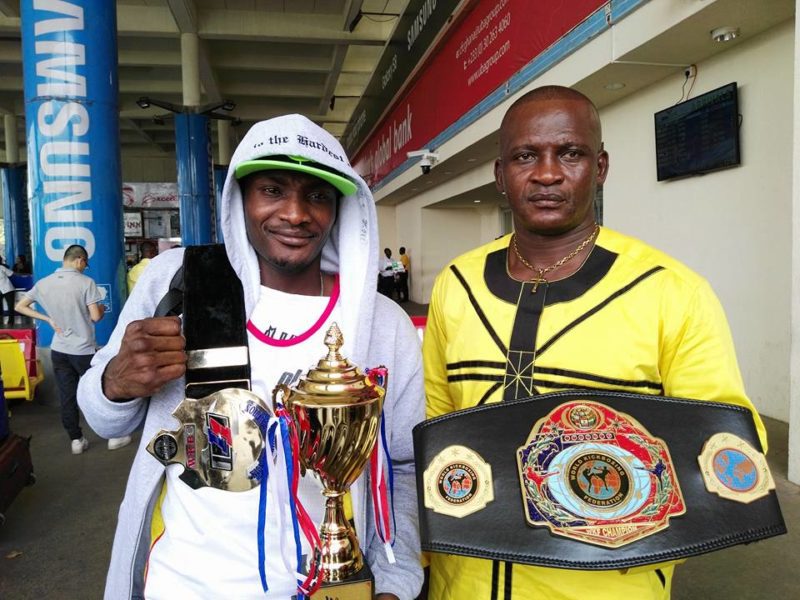 "My next fight is going to be a title fight, it will be four men standing, fighting up to the final. This win is very important, because kick boxing is my passion so I'm dreaming big to make the nation proud because we have a lot of colleagues who have not had the opportunity outside, so by performing well outside it will open a lot of doors for them, and the sport need to go high."
"I based in Dubai, I train by myself sometimes with my friends, for me it is little bit hard because I don't have a coach, so anytime I go to championship they asked me who is your coach and I say myself. Then they will say you will fight technically that means I will be using my mind to fight. So it is by the grace of God that everything is working." He expressed.
Nii Adotey Dzata I appealed to the sports journalists in Ghana to promote kickboxing as the have won many laurels for the nation in recent times. He said Ghana has four brave warriors who have gone out to win world titles, mentioning Abbey, Nmai, Okine and Dah, all products of the Power Zone Club, now called the Pro Fighting Gym.
He said they are preparing for competitions in Cameroun and Mexico.
Source: Sammy Heywood Okine
Follow us on twitter @sports24gh|| Facebook – sports24gh|| Instagram – sports24gh
Email: sports24ghana@gmail.com|| info@sports24ghana.com
www.sports24ghana.com