As Gennady Golovkin stood in the glare of bright television camera lights helping to beam his image to the world, the boxer's closest confidant and most trusted advisor stood alone in the theater's shadowed corner.
There in the darkness, Max Golovkin shed some needed light on what has made his twin the world's most explosive boxer.
"Nobody knows about it because camp is always closed," Max Golovkin said. "No one knows how dedicated and focused and concentrated he is."
While operating as an unbeaten, three-belt middleweight champion, Gennady Golovkin (37-0, 33 knockouts) is pleased to reveal his talents for all inside the ring.
He returns there Saturday night at T-Mobile Arena for his most important bout yet, meeting Canelo Alvarez, Mexico's popular former two-division champion.
What stirs Golovkin, what makes him so committed to his craft and what unleashes the viciousness that resulted in 23 consecutive knockouts with 18 consecutive middleweight-title victories, are motivations he keeps from public view.
For instance, after his first daughter was born last week, Golovkin did not want to talk about it.
"My focus is on boxing. Boxing — business," he said.
Although the response could have come off as heartless, there could also be a cultural aspect at play. Golovkin is from Kazakhstan and many Eastern European fighters, including the dominant heavyweight Klitschko brothers, have struggled to find an audience in the U.S. because they have not made emotional connections with boxing fans.
Golovkin has participated in two prior HBO pay-per-views, and although each bout was competitive and action-packed, neither generated more than 200,000 buys. Alvarez (49-1-1, 34 KOs) had 1 million buys for his May victory over countryman Julio Cesar Chavez Jr.
"Gennady hasn't had the right dance partner until now. If he fought Chavez Jr., his numbers would be high, too," Golovkin promoter Tom Loeffler said. "He doesn't bring his wife and son to the fights. He keeps it completely separate. He's always done it that way. He's been effective that way. … I'd rather have an exciting fighter in the ring who's boring outside of it than the other way."
The person who knows Golovkin's compelling story is his twin. Max remains a confidant constantly by Gennady's side during training camps and fights, providing trusted, calming advice.
Golovkin's Big Bear-based trainer, Abel Sanchez, says what Max tells his brother "is more important than me. Max knows Gennady better than he knows himself. I've seen the interactions with Max and, at times, it is like Max is the older brother."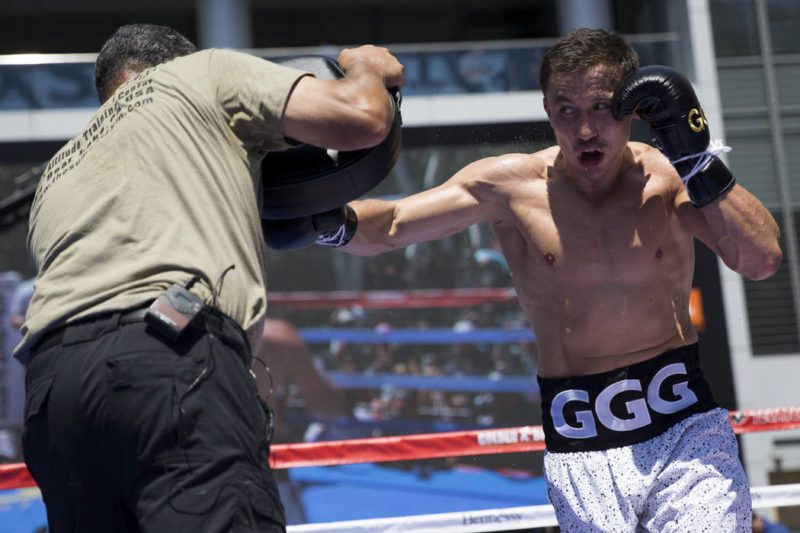 The words are "in Russian, obviously, and I am not understanding, but I can kind of hear it in the tone of voice, what he is doing wrong, what he needs to do more … they know each other better than anybody else could ever know them."
Max also boxed as a youth, from the age of 8, when their older brother, Vadim, led them to a local boxing gym. Another older brother, Sergey, dedicated time with them during their development.
Shortly after the twins discovered boxing, Vadim was killed while performing mandatory Russian government service. The family wasn't given clear details of what happened, and the funeral took place with an empty casket.
The influence of that loss is telling. Gennady's other child, a son, is named Vadim.
Compounding the heartbreak was the 1994 death of Sergey Golovkin in similar circumstances to Vadim's, on Russian government service in Siberia.
The devastating loss certainly tightened Golovkin's desire to maximize the greatness in the ring born from his brothers' vision, but his reluctance to verbalize it has taken the subject nearly completely off limits. In an interview with The Los Angeles Times a few years ago, one publicist promised every subject was available for discussion.
But when Golovkin was asked about his brothers, he turned away and stared out a window, remaining silent until the subject changed.
"It was very tough, very tough," Golovkin told Sports illustrated once. "My family, it really tore us up."
Later, in a discussion about his rising popularity as a sporting hero, Golovkin corrected a reporter, insisting he's in no way a hero.
"Because in Kazakhstan, true life — it is hard," Max said. "He is not a hero, but our brothers are. Gennady knows there are things in life that are more important than boxing."
As they turned 18, their family could only afford to send one of the boys into an amateur boxing career.
"They chose Gennady should continue his career," Max said.
What disappointment once existed has converted to a tightened brotherhood in a needed role for Max to discuss with Gennady all the things he'd keep hidden from public view, like the sudden death of their father, Gennady, two years ago at his Kazakhstan home.
"We are very close," Max said. "In boxing, it means we already have a game plan that I, Gennady and Abel know about. When the boxing starts, if they need me very quickly a few moments during the match, my voice is very important to Gennady."
It has helped bring the pair to this seminal moment, the fight against Alvarez in a world so far from where they've climbed.
"Gennady's No. 1 fan was our father," Max said.
"Of course, it means a lot to him to fight for each of their memories. It will motivate him. And It would be great if they were here."
Source: Lance Pugmire| LA Times