It was the kind of weekend when you remembered a different time and thought fondly of it.
Carried on the backs of Gennady Golovkin and Saul "Canelo" Alvarez, boxing took a step into the past on Saturday night, and hopefully a significant leap into the future.
A middleweight title battle that turned into an instant classic and ended in a controversial draw are just two of the ways in which this contest will be remembered, yet it offered more than that, much more.
"It was everything we told you it would be," promoter Oscar De La Hoya said. "And then some."
It served a reminder of what has long been great about a sport that embodies the intensity of struggle as much as any other, and more than most. It boiled down to the perfect equality of two elite athletes slugging it out, toe to toe, as the final bell sounded. And the eternal unfairness of a system that puts the fate of those men in the hands of three judges who may or may not be qualified for the task.
"Terrible," Golovkin said, but he was talking about one scorecard, not the night itself, which was anything but.
It was a nod to past eras when fans could approach a matchup with confidence that their time and money would be rewarded, rather than being a financial gamble that would likely come up empty.
Boxing is tough and rugged and brutally uncompromising for the hardy souls who choose to participate in it, but it is supposed to be entertaining for those who watch. The 12-round war that resulted in honors even and with Golovkin retaining his WBC, WBA and IBF belts gave value in spades, boosted the reputation of both and left observers, both devout and casual, hungry for more.
Just because modern boxing's biggest fights have been low on action and big on risk avoidance doesn't mean the tastes of the fan base have altered. Indeed, the flying fists and ferocious exchanges meted out by Golovkin and Alvarez could be made for an audience that sees the world through a highlight reel lens on social media.
As Golovkin pressed and pressured and Alvarez absorbed and countered, there was never a dull moment. At times, when both decided to unload simultaneously without regard for self-preservation, the crowd at T-Mobile Arena was on its feet, screaming, in awe of what they were witnessing.
Floyd Mayweather, who spent part of the weekend defending President Trump's comments about groping women and the rest trying to drum up business for his strip club, has made more money than any fighter in history, but he'll never know what such roars of spellbound exhilaration sound like.
The worst thing about the night came from the collection of numbers scrawled on bits of paper by Adalaide Byrd, a judge with a checkered history of peculiar decisions. Her 118-110 scorecard in favor of Alvarez defied logic, belief and both of her officiating colleagues, one of whom scored it even while another plumped for Golovkin, 115-113.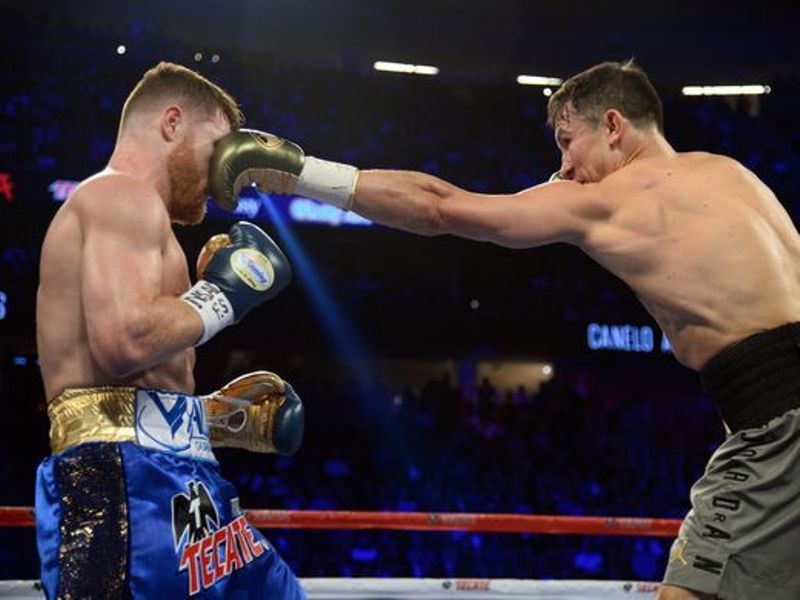 A draw was a fair result yet so too would have been a win for Golovkin, the heavy-hitter from Kaakhstan, who exerted the greater influence on the fight but may have been shaded out in several close rounds. If Byrd's card had ultimately ended in an Alvarez victory it would have been a travesty, and she likely wouldn't have gotten the green light to judge big fights again that Nevada State Athletic Commission executive director Bob Bennett immediately granted.
"She had a bad night," Bennett said. "It happens."
Miserable judging notwithstanding, this was a big night for boxing. There are many ways the sport can capitalize upon it, and only one in which it can mess it up.
A rematch between Golovkin and Mexican favorite Alvarez, as soon as the treasured Cinco de Mayo weekend in May, is a no-brainer. It makes all the sense in the world, in terms of timing, financial benefit and anticipation. Boxing has found itself blessed with no-brainers before, yet so often contrived ways to sabotage them. Hopefully not this time. Both men say they want it, Golovkin a little more vehemently than his rival. De La Hoya initially insisted it would happen, before later backtracking a bit. We will see.
For Golovkin and his supporters there was some solace that his record remains undefeated [37-0-1, 33 KOs] and his belts in place. For Alvarez, pride in his ability to take Golovkin's best shots and come on strong in the closing rounds, combined with his youth – 27 years old to his opponent's 35 — give significant hope for a successful outcome if they do it again.
Some will agree with that assessment, plenty will not, and that's fine. But either way there it is, chatter and conversation and conjecture about boxing again, enough to feed the sport until the next superfight.
Whether it be about the judging, the merits of the fighters or the age-old conundrum of whether boxing is dead or thriving, long may the debate rage.
At least until May.
Source: Martin Rogers| USA Today