It's a can't-miss, isn't it? The Sept. 16 middleweight title fight between Canelo Alvarez and champion Gennady Golovkin would seem a lock for an old-fashioned ring war.
Just thinking about what could happen in two weeks at T-Mobile Arena in Las Vegas evokes thoughts of yesteryear. Not just for yours truly.
"I see both guys being aggressive and I see Gennady being more physical," said Abel Sanchez, Golovkin's trainer. "I see Gennady trying to dictate the pace. Canelo has proven that he's a warrior. We're looking for a tough fight.
"I think that both guys are going to hurt each other, and they may go down. But I think we will be treated to a throwback fight like in the mid-'80s when the four kings, the five kings, were around."
"Four Kings" is a book authored by George Kimball centering on Sugar Ray Leonard, "Marvelous" Marvin Hagler, Thomas "Hit Man" Hearns and Roberto Duran.
Alvarez doesn't have the one-punch power of Golovkin. But Alvarez hits plenty hard enough and he is a volume puncher who can be relentless. And since defense is not the best thing Golovkin does, he's going to absorb some leather.
We all know how hard Golovkin [37-0, 33 KOs] hits – he knocked out 23 consecutive opponents before Daniel Jacobs took him the distance in March.
To Alvarez, the possibilities are endless. A knockout by either guy? Absolutely.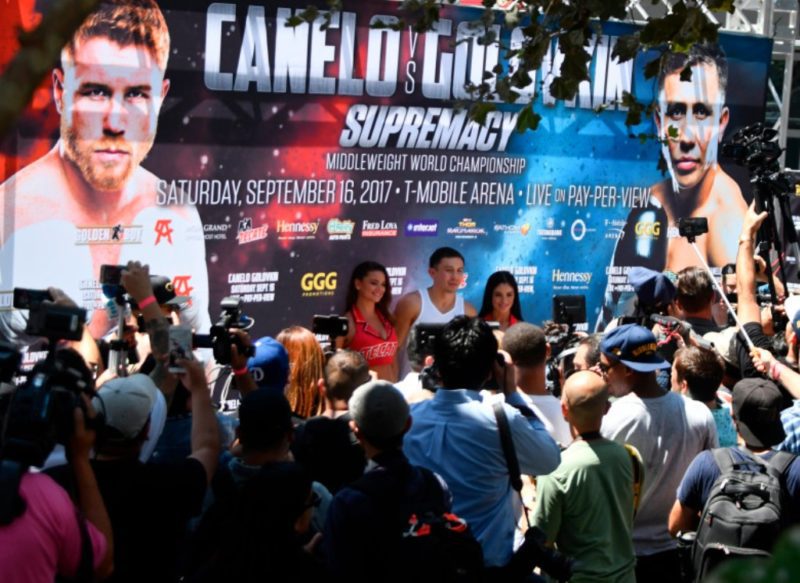 "Obviously, anything can happen in boxing," Alvarez said. "Anything can happen at any point, at any time, more so when both fighters can punch, when they both have punching power. You know, you can have a fighter that might not be a big puncher, but if he connects that perfect punch at the right spot, he can knock down anybody.
"So yes, of course it can happen. It can happen because of the amount of punching power both fighters have."
Now think about this: Golovkin has a lot of fans of Mexican descent. They like the way he goes after his opponents with one thing in mind – a knockout. And even though most know him as "Triple G," a secondary moniker attached to him is "Mexican Style."
That means while Alvarez [49-1-1, 34 KOs] might want to move a bit more than usual because Golovkin – by Alvarez's own admission – is the most dangerous opponent he will have faced, he can't move too much.
How would it look if the Mexican in the fight didn't fight the so-called Mexican style of fighting, on Mexican Independence Day no less? Alvarez, 27, must stand and fight. Even if he loses, he keeps face. If Alvarez dances and runs his way to a victory while Golovkin, 35, spends all night stalking him – the way of the Mexican – he'll lose face.
Yeah, that's why this is going to be a mean one.
"This is our Mexican Independence Day holiday weekend gift to boxing and to boxing fans," Golovkin said. "The fans have been asking for this fight for years. We are going to give a great battle."
The bout will be available on HBO pay-per-view for $69.99, $79.99 (in HD).
Source: Daily Bulletin