Hoping to lighten the mood around Russian sport, romantic Russian skier Semen Denshchikov has married an athlete banned from the PyeongChang 2018 Winter Olympic Games on Valentine's Day.
Denshchikov was one of 169 Russians cleared by the International Olympic Committee [IOC] to compete at PyeongChang as an Olympic Athlete of Russia [OAR] but his then-fiancée, skeleton team member Olga Potylitsina, did not receive an invite to the Games from the organisation.
The cold shoulder from IOC did not cool the romance between the two and Denshchikov managed to squeeze marrying Potylitsina in between training sessions before jetting off to South Korea for the Games.
"Maybe we will bring a little bit of good news and everyone will rejoice, and the spirits of the whole [OAR] team will be lifted and everyone will be happy," Potylitsina, 28, told reporters.
"All my thoughts are about the Olympic Games in any case because it will be very difficult Olympics for all the athletes involved," Denshchikov said.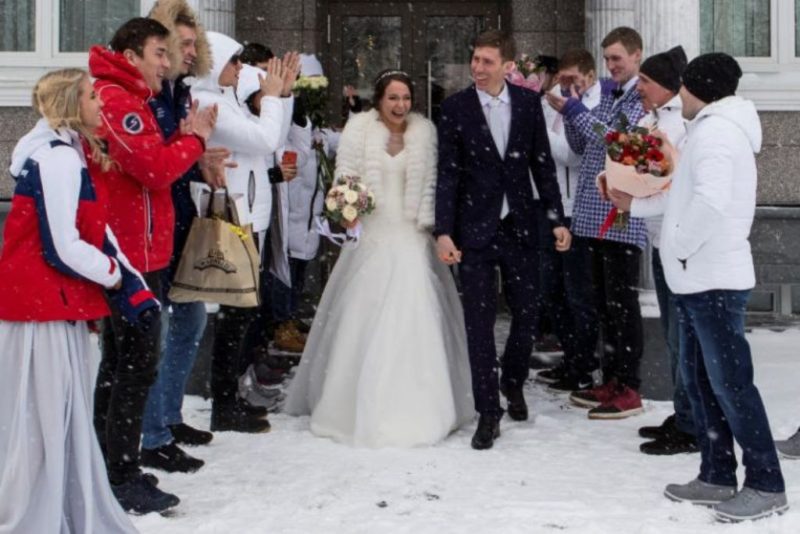 The couple will host a further ceremony for family and friends when the 24-year-old returns from the Games, where OARs have so far amassed a medal haul of one silver and four bronze.
Russian athletes were banned from competing at PyeongChang due to allegations of state-sponsored doping in the country. In November, Potylitsina was one of four athletes to be handed a lifetime ban from Olympic competition, which she called a "highly politicized attack on Russia."
Her records from the Sochi Games were also expunged, but following an appeal to the Court of Arbitration for Court [CAS] Potylitsina's life ban was rescinded on February 1, after which she told RT she was "overwhelmed with joy."
However, the IOC ruled that the appeal being upheld was not a sign of innocence, and refused to hand the Krasnoyarsk native an invitation to the Games.
Source: RT
www.sports24ghana.com