France's players and coaches had spent the buildup to the team's World Cup quarterfinal against Uruguay talking up their opponent's defensive capabilities.
And statistics bore out the wariness with which the French approached the game: Uruguay's goal had been breached just once in 2018, and not by a France team for five consecutive games, a run stretching to 1985.
Yet by the end of a poor game played at Nizhny Novgorod Stadium, those concerns appeared misplaced. Uruguay's gnarled back line, which had built its reputation on years of repelling some of soccer's most potent attacks, gifted Didier Deschamps's team safe passage into a semifinal in St. Petersburg, Russia, on Tuesday, conceding two soft goals in a 2-0 defeat.
Raphael Varane, France's central defender, opened the scoring in the first half after easily losing his marker, Matías Vecino, to plant a header off Antoine Griezmann's free kick beyond goalkeeper Fernando Muslera. Worse was to follow.
Muslera, among a group of Uruguayan players appearing in their third World Cup, made a hash of saving a routine shot from Griezmann, and fumbled the ball into his own net. With that, Uruguay's stay in Russia was effectively over, and the game petered out to its inevitable conclusion.
"I told all my players after the match that they can be very proud, keep their heads high," said Óscar Tabárez, the 71-year-old coach who has transformed Uruguay's soccer fortunes since taking charge of the team 12 years ago. "I don't have anything bad to say against them. We all saw that it was not a very common goal, but Muslera has been a very important pillar in all our work up until now."
In reality, France did not need to play particularly well to overcome a second South American team in the knockout stages. It didn't, for example, require Kylian Mbappé, its 19-year-old attacking phenom, to show anywhere near the threat he did in the swashbuckling 4-3 victory over Argentina in the round of 16.
A subdued performance from Mbappé was in keeping with a generally low-key game that was played at times in an eerily quiet atmosphere that did nor reflect the prize on offer to the victor.
It was perhaps apt that it was Griezmann who did as much as any other player on the field to liven the proceedings.
Griezmann, 27, arrived at the stadium clutching a gourd containing mate tea and a flask of hot water, a strange accouterment for a member of the French contingent to carry but a perfectly normal one for an Uruguayan, for whom the tea is a national staple. It symbolized a peculiar fondness, verging on devotion, that the skillful forward has developed for the tiny South American country.
Normally Griezmann commemorates his goals with choreographed celebrations, but on this occasion, he demurred. The reasons were manifold. The coach who set him on his path to stardom was from Uruguay, as are José Giménez and Diego Godín, the central defensive pair who are Griezmann's teammates at the club level but lined up against him on Friday. Godín is also godfather to one of Griezmann's children.
"When I started as a professional I was supported by a Uruguayan who taught me about the good and the bad, so I have a lot of respect for Uruguay as a country and I was also playing against my friends," Griezmann said after the game. "I thought it was normal not to celebrate my goal."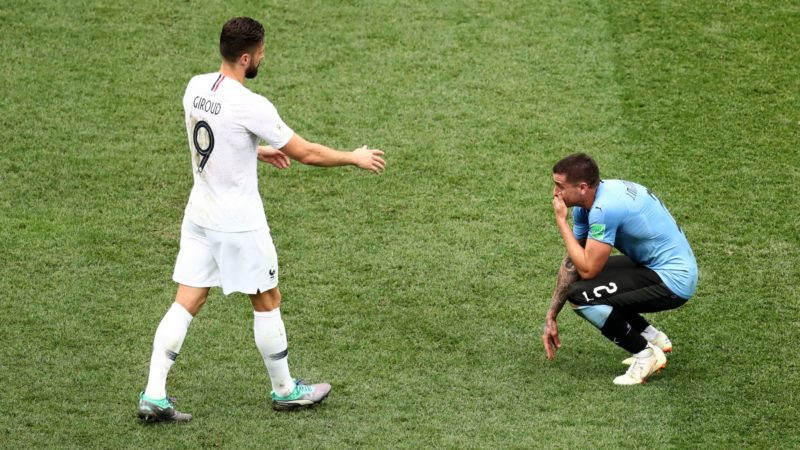 A game shorn of the drama that has defined much of the tournament was defined by two almost identical moments shortly before halftime.
First, Varane stole ahead of Vecino before beating Cristhian Stuani to the ball to head beyond Muslera, who could not get near the ball as it sped into the goal. Five minutes later, Hugo Lloris, in the French goal, produced a world-class save to keep out Martín Cáceres's header, which seemed destined to creep into the bottom corner of the net.
Lloris's performance for France stood in contrast to that of Muslera, who even before his mistake looked vulnerable, failing to deal with crosses into the box that on another occasion French forwards would probably have pounced on.
"Only those that don't do anything, don't make mistakes," Tabárez said in comments typical of his long tenure, in which he has stood by his players even when they have erred. "I told all my players after the match that they can be very proud, keep their heads high. I don't have anything bad to say against them."
Tabárez declined to reveal what he said to Muslera, choosing instead to describe him as a vital element in a multiyear process that has allowed Uruguay to return to the top ranks of world soccer.
Tabárez is referred to as el Maestro in Uruguay, not only for his schoolteacher roots, but also for the professorial way in which he has nurtured a generation of players to become the pride of a country of 3.5 million inhabitants sandwiched between the South American superpowers Argentina and Brazil.
Speaking before the game, Tabárez, who walked with a crutch as he battles a chronic illness that affects his nerves, explained that for a nation like his, obsessed with soccer but suffering from shortages of people and infrastructure, it was important to imbue the squad with characteristics particular to the country's place in the world, its reality.
Without access to the number of high-quality players its South American neighbors can typically call on, Uruguay has built its success on a blend of street smarts, toughness and determination, a combination known locally as the "claw of the Charrúa," a reference to the indigenous population that inhabited the country at the time it was colonized by Europeans.
Against France, Uruguay, missing Edinson Cavani, a half of its feared strike force, the other member of which is Luis Suárez, belatedly showed its fighting spirit, and only then to participate in an ugly multiplayer melee after Mbappé and a substitute, Cristian Rodríguez, clashed.
Tabárez will return to Uruguay as a record breaker. No other coach has overseen more World Cup games. Whether that run is now over, and the fruits of more than a decade of hard work — Tabárez oversees all elements of Uruguay's soccer program — will be left to someone else remains unknown. Tabárez said it was not the time to talk about his future.
For France, on the other hand, the focus remains on the present. The team, among the youngest at the tournament, looks fresh and full of possibilities.
"We have some margin to get even better," Deschamps said.
Source: Tariq Panja|| NY Times
www.sports24ghana.com