Jordan Pickford hadn't been born the last time England reached the semifinals of a World Cup. Neither had Dele Alli, Harry Kane or Harry Maguire.
So in their minds they were making history, not repeating it Saturday, when they carried England to a 2-0 win over Sweden and into the final four of a World Cup for the first time since 1990.
"We have always said we would take one game at a time and we can go on and create our own history," said Pickford, who made three saves to post his first shutout of the tournament.
A first-half header from Maguire and another in the second half from Alli provided the offense and then afterward Kane, the team's captain, provided the perspective.
"We are enjoying it," he said. "We've got to keep doing what we are doing and make the country proud."
They're already done that, accomplishing more in five games than the country's "Golden Generation" of Ashley Cole and David Beckham did in the 2002 and 2006 World Cups. Those teams got to the quarterfinals in both tournaments but went no further, going out on penalty kicks the second time, one of six times England has been eliminated in a shootout from a major competition.
This team has already conquered that obstacle, winning its round of 16 game on PKs. After following that with a relatively easy win over Sweden in steamy Samara, the team is beginning to see itself as one of destiny. As a result its celebrations Saturday were muted since there remains much work to be done.
"We looked composed. We looked like we controlled the game," Kane said.
Maguire opened the scoring in the 30th minute, heading in a corner kick from Ashley Young. It was Maguire's first international goal and England's seventh score of the World Cup on a set piece.
It turned out to be a game-changer.
"Up until that corner, I felt that we had everything under control," Sweden coach Janne Andersson said. "I felt that we had the match in our hands."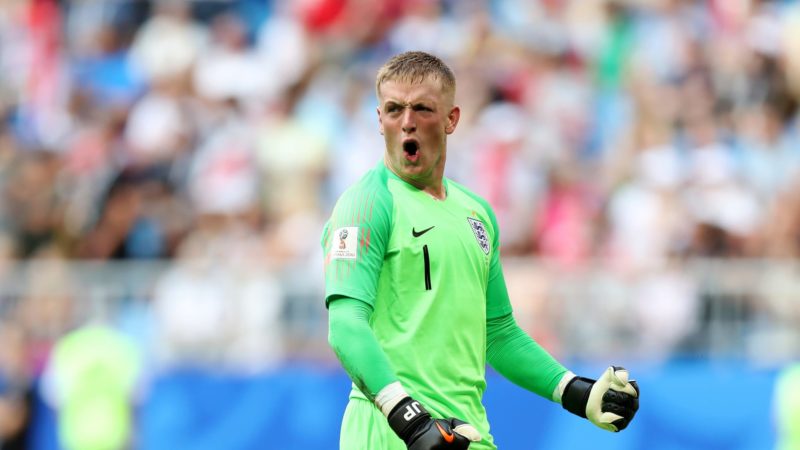 After that, it was all England.
Alli doubled the lead 14 minutes into the second half, nodding in a far-post cross from midfielder Jesse Lingard. The goal made Alli, 22, the second-youngest scorer for England at a World Cup behind Michael Owen, who was 18 when he scored in the 1998 tournament.
It then fell to Pickford to hold the lead and he proved up to the challenge, making two stout saves in the final half-hour, the first against Viktor Claesson and the second on Marcus Berg.
That ended a historic performance for Sweden, which hadn't made it to the quarterfinals of a World Cup since 1994. It got there this summer with a roster carefully constructed by Andersson, who ignored the talent — and distractions — of Galaxy forward Zlatan Ibrahimovic in favor of blue-collar grinders.
"Football is a game played by a team," Andersson said. "Never forget that."
That team played well in Russia, beating Mexico to win its group, then shutting out Switzerland — its third clean sheet of the World Cup — to reach the quarterfinals. So after the loss, the coach gathered his players in a huddle to congratulate them.
"We were sad and we're disappointed," Andersson said, "but we mustn't forget we put in an excellent performance. I wanted to say that already on the pitch, too, to our players."
England, meanwhile, goes on to meet Croatia in Wednesday's semifinal in Moscow, where more milestones can be achieved — this time for manager Gareth Southgate.
Southgate was not only alive for the 1990 World Cup, but he played for two World Cup teams during the country's "Golden Generation." But he hadn't been born the only time England reached a World Cup final, in 1966. So in his mind getting back this month would be making history, not repeating it.
"I hope everyone at home enjoys tonight because it's not often this happens," he said Saturday. "It's an incredible feeling."
Source: Kevin Baxter|| LA Times
www.sports24ghana.com