While talking on the phone recently, boxing champion Floyd Mayweather Jr. told quarterback Tom Brady, "I'm going to come watch you play this year — a lot."
The five-time Super Bowl winner with the New England Patriots replied, "Good. Take care of business."
Mayweather, 40, again is insisting, as he prepares to meet UFC champion Conor McGregor on Saturday in a boxing match in Las Vegas, that he will retire afterward.
He's expected to get more than the $240 million he cleared for defeating Manny Pacquiao in 2015 and said Tuesday that he will pursue an offensive battle to close his career at 50-0.
But what will the man who has devoted his life to boxing do when his career is over?
"That's a great question. Because I'm not sure he even knows," said one of his closest advisers, who declined to be identified because of the subject matter.
Mayweather has claimed on at least three other occasions that he was retiring — after defeating Oscar De La Hoya and Ricky Hatton in 2007, and Andre Berto in 2015.
Mayweather said the retirement talk is real this time.
"I gave my word already. Once I gave my word to my children, it's the end. It came to an end," Mayweather said. "This is a great event. What better way to go out than with a bang?"
At Tuesday's grand arrival, there was simultaneous adulation and jeering as McGregor rushed Mayweather on stage and was brushed away by the boxer's mammoth bodyguards.
Will Mayweather miss the circus environment that often preceded his fights?
"No, not at all. This is work. After so long, it's a job. My job is as a fighter, to compete against the best guys," Mayweather said.
"You just know [when it's over]. I'm not going to tell you guys how I know. I just know. When your body has been pushed to the limit … once you've competed against everybody, your body has been pushed to the limit."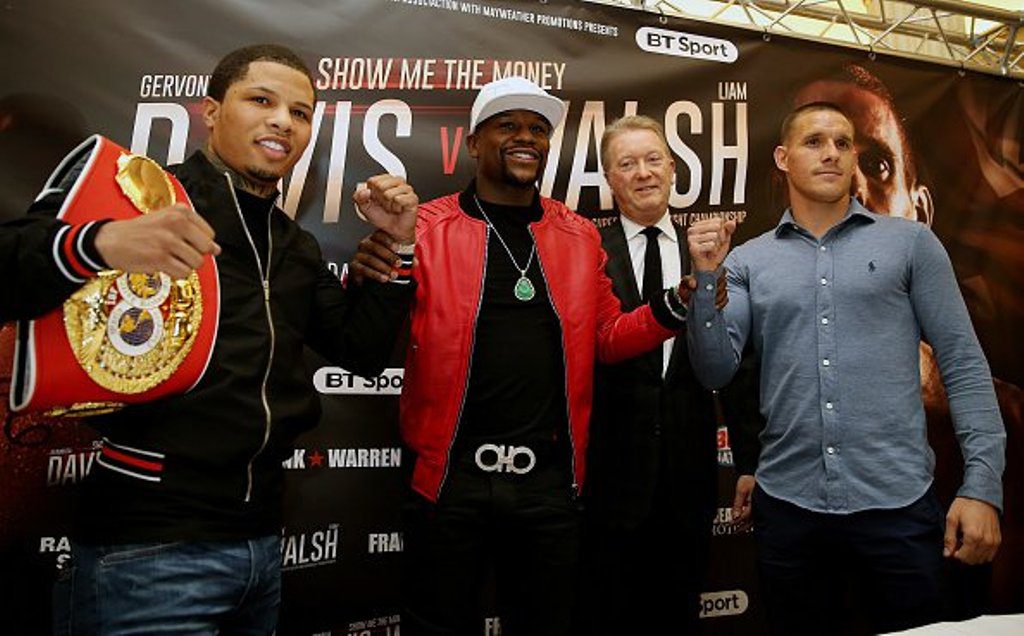 In his time off since defeating Berto, Mayweather has traveled extensively.
At Mayweather's media day this month, an associate was hurrying to move $200,000 of the boxer's money to fund a vacation for Mayweather and friends in the Middle East.
Mayweather also is invested in his Mayweather Promotions company that has 45 fighters, including lightweight champion Gervonta Davis and former super-middleweight champion Badou Jack (both on Saturday's undercard), along with real estate in New York, Miami and Los Angeles.
"He's going to finally, finally, have a chance to put his illustrious boxing career behind him and move on to the next phase of his life and business," said Leonard Ellerbe, chief executive of Mayweather Promotions.
"He has a tremendous portfolio to manage, with hundreds of millions of dollars in real estate. He has invested in hotels. He has his hands in a lot of different things."
One of those is Mayweather's newly opened Las Vegas gentlemen's club, "Girl Collection," a place he said he'll frequent each night this fight week.
Yet, it's difficult to envision Mayweather content to hold court inside "Girl Collection," knowing many more millions of dollars could be earned for one more fight.
In what will be his seventh bout since 2013 on Showtime, he's expected to surpass $1 billion in pay-per-view buys against McGregor.
Boxing has repeatedly tempted many fighters to compete beyond a reasonable age. Even the late heavyweight champion Rocky Marciano, who shares a 49-0 record with Mayweather, returned to training before realizing he wasn't up to the task.
It remains to be seen about Mayweather.
Source: Lance Pugmire| LA Times