Floyd Mayweather Jr. has confirmed that he wasn't pulling anybody's leg when he accepted an informal fight challenge that Khabib Nurmagomedov recently issued to him over social media.
Mayweather made his intentions to come out of retirement for the scrap known during a run-in with TMZ, saying that he is "absolutely" committed to doing whatever he can in his power to make sure the matchup goes down.
"Oh, we're fighting. I'm my own boss, so I can't say what's going on on Khabib's end, but on my end, we could make it happen," Mayweather told a reporter with the celebrity news outlet on Tuesday, October 16.
Mayweather's response to the inquiry into buzz growing around the prospects of another boxing-meets-MMA megafight corroborates comments he made via Instagram the day prior. As the Inquisitr has previously reported, Mayweather first learned of Khabib's interest in taking him on through a video that long-time manager and CEO of The Money Team, Leonard Ellerbe, shared with him. Ellerbe happened to cross paths with Khabib at an event that took place in his Russian homeland this past weekend.
"Let's go, Floyd. We have to fight now. 50-0 versus 27-0. Two guys that never, never lose. Let's go. Why not? Because, in the jungle (there is) only one king," Khabib is seen saying in the recording.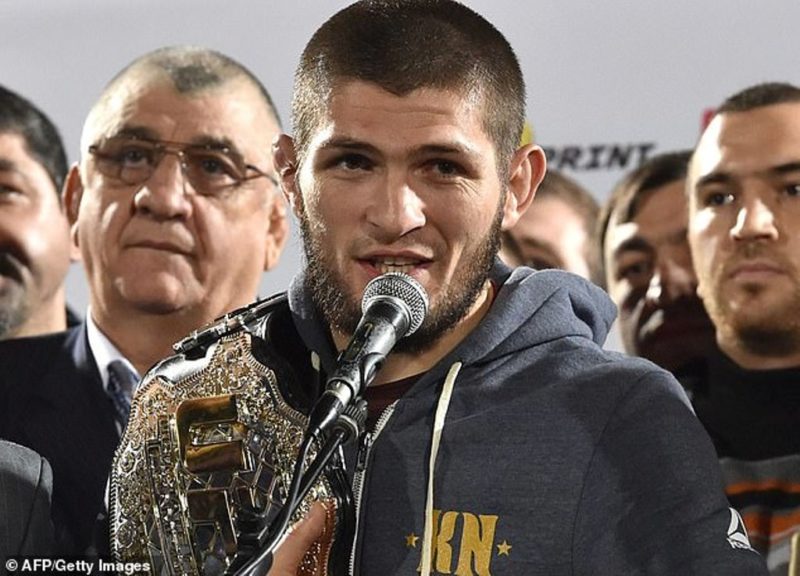 In his response, the undefeated boxing legend called upon CBS, Showtime, and MGM Grand to get together and talk the potential for business in such a matchup.
Prior to his clash with Conor McGregor taking place at T-Mobile Arena last year, all 12 of the bouts that Mayweather had competed in over the previous decade took place at the MGM Grand. What's more, Boxrec notes that he hasn't fought outside of Las Vegas since 2005. In that span, he has raised his status from promising U.S. Olympian turned pound-for-pound elitist in the sport — to all-time-great, with defeats over the likes of Zab Judah, Oscar De La Hoya, Juan Manuel Marquez, Shane Mosley, Miguel Cotto, Saul "Canelo" Alvarez, and Manny Pacquiao.
Mayweather told TMZ that Khabib is requesting that they take the event somewhere other than Vegas, which makes sense seeing how the Nevada State Athletic Commission is currently deciding on how they will punish him for sparking a brawl after the McGregor fight. But Mayweather isn't having any of that.
"I'm Floyd Mayweather, I'm the A-Side. You call me out you come into my world," he said.
Mayweather came away from his first fight against a UFC star with a guarantee of $100 million. McGregor was guaranteed $30 million for his part. At this point there is no telling what Khabib might be able to work out, but one thing about Floyd "Money" Mayweather is that he insists he no longer puts gloves on for less than what he thinks he deserves. Apparently, he doesn't think that will be an issue, projecting that he will be rewarded anywhere between $110 million and $200 million should the fight get made.
Source: Tony Rivera
www.sports24ghana.com