Several large men milled around the door at 4020 Schiff Drive in an innocuous strip mall in the Chinatown district of this gambling mecca, watching over empty parking spaces in front reserved for the boss' gleaming white Rolls Royce.
Inside, the sweltering boxing gym was packed shoulder-to-shoulder with boxers, trainers, media, publicists and assorted hangers-on, each of them eager to get a glimpse of the impending show.
Floyd Mayweather arrived fashionably late and quickly set about the task at hand. He's going for his 50th win in his 50th fight, a mark that would allow him to surge ahead of the legendary heavyweight champion Rocky Marciano, who retired at the peak of his powers in 1955 with a 49-0 record.
He's about to face another unbeaten boxer, though that comes with a caveat. Conor McGregor, the UFC lightweight champion, is unbeaten in the ring because he's never boxed. Nevertheless, he will be standing across from Mayweather at about 9 p.m. PT on Aug. 26 at the T-Mobile Arena in what could be the largest-grossing fight in history.
Mayweather on Thursday was cool, calm and collected in answering a number of questions while holding court with the media. He was reflective, a guy who knew the end of the line was near. He's 40 and has made his share of mistakes. He's learned from them, he insists, and strives to be better.
Off the cuff, he apologized for using a gay slur during the press tour that kicked off the promotion of the fight with McGregor, and he spoke of how he was bothered by what he perceived were racist remarks coming from McGregor.
"There are certain boundaries you just don't cross," Mayweather said. "In the press tour when I said something toward lesbians or gays when I said something toward him. I apologized, but him calling us monkeys, you have to realize, we went through years and years of up and down. Black Americans went through a lot. But I'm a strong individual. We live and we learn and hopefully after Aug. 26, he won't be speaking that same language."
Leonard Ellerbe, the normally cool CEO of Mayweather Promotions, was far more agitated and excited than his fighter.
He railed at those who questioned that the bout is not a sellout, and he praised Mayweather's vision and instinct for promoting.
"He's a genius," Ellerbe said, shaking his head. "Some of the things he comes up with, it's mind-boggling. … Unlike a lot of these other fighters, who think [expletive] is supposed to fall out of the sky, Floyd's gone out there and created a fan base. Love him or hate him, you guys aren't around when he's flying to all these inner-city environments doing these small events for basically nothing. It's his way to reach out to the casual fan. This guy, that guy, they remember him from some point. He's one of the guys who actually goes into the hood."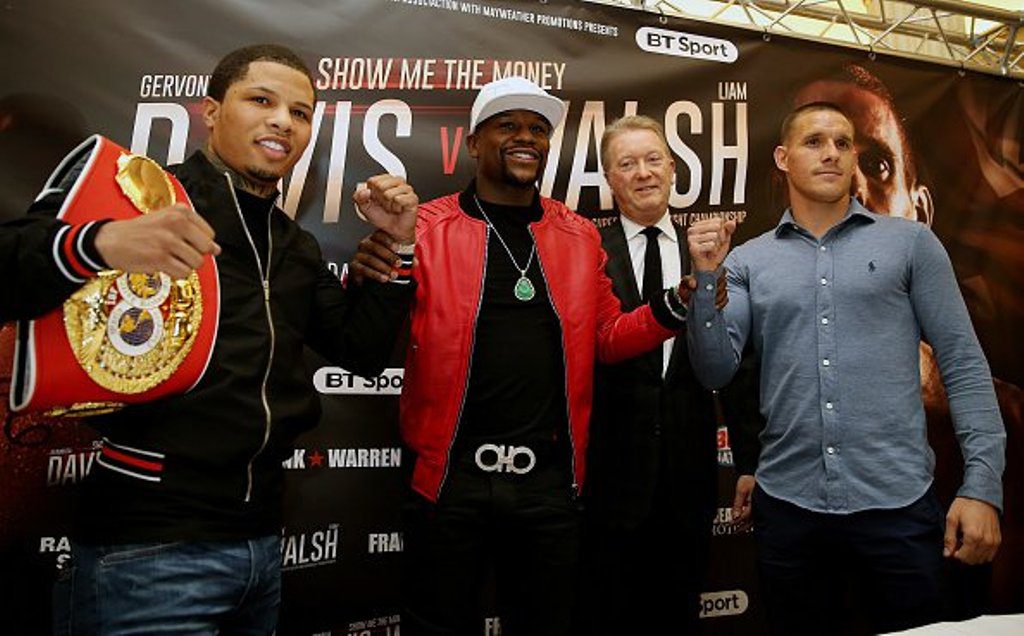 Mayweather, though, was different than he'd been at times in the past. In the past, he's stomped around the VIP Room at the MGM Grand and lectured a reporter about the dangers of boxing and the risks of brain trauma fighters face. There was another time when he railed on Oscar De La Hoya before a fight that turned him into a superstar.
He spoke evenly and without a hint of anger or resentment. The only time his temper seemed to raise a little is when he was asked about meeting McGregor in New York. McGregor had gone off on Mayweather the day before at a news conference in Toronto, and Mayweather said he approached McGregor, almost as if to test him.
"I went up to him and said, 'What up little dude?' " Mayweather said. "At that particular time, he was with all of his guys and I was with all of my female friends. You know how I say, having one is too close to having none? I had four or five of my girls with me and my daughter was with me. I was just letting him know, with or without my security, I'm still tough. I ain't no bitch. I ain't no punk. I was just letting him know that.
"And I said it again, 'What's up little dude?' to see if he wanted to pop off like he did when he was on stage. And he didn't say nothing."
That was the only time, though, that he seemed to let the fighter come out. The rest of the time, he was a relaxed businessman preparing for a mega-deal that will set him for life.
Depending upon how the fight does, Ellerbe said Mayweather could make enough that he would push near the $1 billion in career earnings, an almost unfathomable number that doesn't include his endorsement or appearance income.
Behind the sea of reporters stood former world champion Cornelius Boza-Edwards, an elite fighter in his day who now is the gym manager. Boza-Edwards marveled at what Mayweather has been able to do and scoffed at the notion that McGregor had even the remotest chance to win.
"Seriously? Are you for real with that?" the mild-mannered Boza-Edwards responded when asked if there is anything McGregor could do to trouble Mayweather. "You're talking about a guy who has been through the Junior Olympics and the USA Boxing program and the Olympics and 50 pro fights where he made guys who have boxed all their lives looked like they were lost in there.
"And his mind, it's his mind that separates him. He knows the business so well, he knows more about what [McGregor] is going to do than [McGregor] does. He has incredible talent, talent that we haven't often seen in this business, but he is so smart and he sees and processes information so well. That guy hasn't seen anything close to what he is going to see on the 26th."
Source: Kevin lole| Yahoo