No aspect of life has gone untouched by the war in Azerbaijan's west — not even football.
The violence in the Nagorno-Karabakh region has displaced more than a million people from their homes, and hundreds of thousands from Aghdam itself. Some have fled east to Baku, while a significant number of people relocated to the refugee camps.
FK Qarabag, arguably Azerbaijan's greatest football club of present day — some would argue of all-time — hasn't played on its home ground in Aghdam since June 1993.
The Nagorno-Karabakh war transformed Aghdam from a vibrant city of 40,000 inhabitants with fancy teahouses and Soviet bloc high-rises to the world's largest ghost town, with 6,000 people killed and many more lives ruined. During the war, Qarabag's Imarat stadium was badly hit.
The team has won Azerbaijan's Premier League Championship the past four years, and has even enjoyed some Champions League and Europa League success. In 1999, the Horsemen became the first Azerbaijani team to win away from home in European competition when they beat Maccabi Haifa 2-1 in Baku.
Under the management of former Azerbaijan football star Gurban Gurbanov, Qarabag have built a battling side focused around a core of Azerbaijani talent.
"Qarabag represents not only Azerbaijan, they also represent the hope of one million refugees driven from their home," says Farid Badalov, a lifelong Qarabag supporter.
The Azerbaijan Premier League continued to operate during the war, but the club suffered grave losses. Qarabag's former coach and Aghdam-native Allahverdi Bagirov joined the frontline to become a charismatic army commander, saving many refugees during the Khojaly Massacre. He become a national hero after his car ran over a land mine during the war which killed him in 1992.
The club providing that lifeline is itself on a life-support system. Without the injections of money provided by the state-backed holding company Azersun, the organisation would collapse.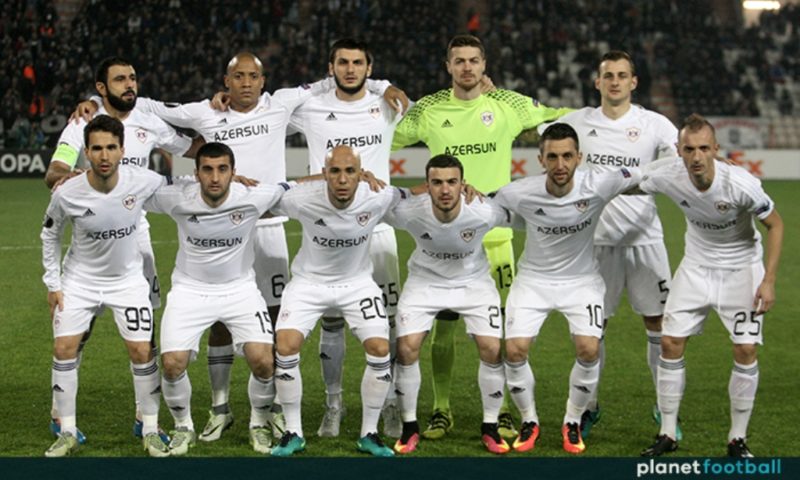 Refugee connection
Qarabag is also known as the Refugee club in Azerbaijan, acting as a symbol of hope and pride for the people of Aghdam.
The club's captain Rashad Sadygov is a refugee from an area called Kalbajar, which also fell to the invader in 1993. Midfielder Gara Garayev is another refugee from Fuzuli, who learned his football skills on "a pitch made of cement" after getting evacuated before 1993 as the enemy occupied his town.
Jamal Ojagov, Qarabag fan and a refugee who, like the team, fled Aghdam during the war, says it has become increasingly challenging to organise the supporters, who, after leaving their homes, spread across the country.
"We are the team from Aghdam, which plays its home matches in Baku. It's a strange paradox," he says. "And it's uncomfortable."
For now, the team and its supporters are concentrated on letting the game give them some respite from the war.
"We are all missing Aghdam, but you have to give people just a little bit of happiness with victories, so that they believe that tomorrow will be better day," said Ojagov.
Qarabag's successes amid countless difficulties makes for a charming story and it's little surprise the club has been the subject of both a film and a book in recent years.
In 2012, Dutch freelance journalist and writer Arthur Huizinga released "Offside – Football in Exile" – charting the history of the club and the human tragedy of the conflict in the Nagorno-Karabakh region that is a frozen but unresolved situation accounting for hundreds of thousands of refugees and IDPs.
Arthur and colleague Dirk-Jan Visser's photography is striking and emotional – a true eye-opener into a geopolitical encounter that has received little attention from the world.
In 2015, American author and journalist Thomas Goltz teamed up with Huizinga to make a film also called 'Offside' which sheds further light on the club's sporting triumps and the war-ravaged city of Agdam they are exiled from.
Football becomes rather insignificant in the face of the viciousness of conflict and there are many in Azerbaijan who has suffered a far worse fate than those involved with Qarabag.
But bearing the Karabakh horses on their chests, Qarabag players are the voice of a displaced refugees, and this the tale of a team that wouldn't give up.
Source: Fuad Alakbarov| planetfootball.com