By El-Amisty Nobo| Follow Amisty on twitter @ElAmistyNobo
The Black Starlets aim of lifting the 2017 FIFA U-17 World Cup was grounded on Saturday, October 21 having lost 1-2 to the Eaglets of Mali at the Indira Gandhi Athletic Stadium in Guwahati [India].
The much anticipated clash was rather marred by a torrential rainfall, but the African champions [Mali] acclimatized to the poor condition and dominated possession right from the start.
Hadji Drame broke the deadlock in the 15th minute after a textbook attacking move initiated by Salam Jiddou whose crafty pass from deep midfield broke the Black Starlets' defence into shreds.
The Eaglets kept pressing and could have extended their lead, but for their profligacy in front of the goal post. The Black Starlets came into the game after the 37th minute and nearly pulled even on the stroke of half time, but Ibrahim Sulley saw his goal disallowed by referee Mehdi Abid Charef.
But the replay proved that the Algerian referee's call was right after all as Kudus Mohammed fouled Abdoulaye Diaby in the box before the ball traveled to Ibrahim Sulley who was lurking behind to hit one past goalkeeper Youssouf Koita.
The Black Starlets were in cruise control from the recess, enjoying a great deal of possession, but without progression in the third half.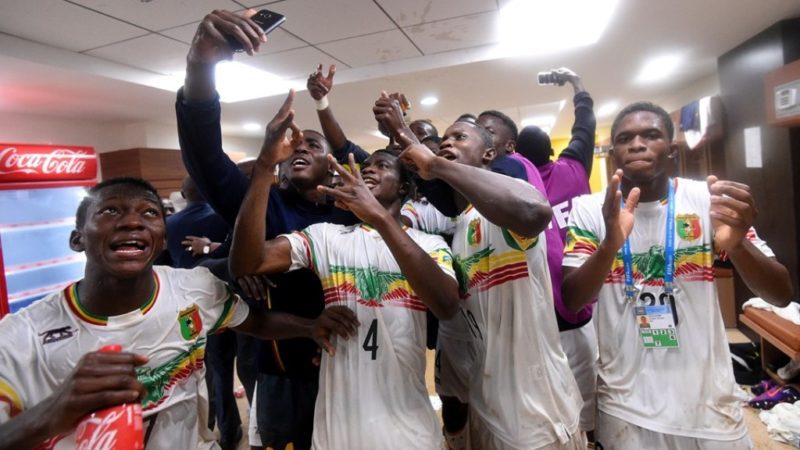 An unpardonable goalkeeping error by Danlad Ibrahim in the 60th minute gifted Djemoussa Traore the opportunity to extend the lead for the Eaglets. The 14-year-old goalie missed a clearance kick outside the eighteen yard box only for Traore to pick the ball and curl it into the top corner.
Kudus Mohammed pulled one back for the Black Starlets in the 70th minute, but the Eaglets held onto their lead to the final whistle.
Starting line-ups:
Ghana: Danlad Ibrahim, Najeeb Yakubu, Eric Ayiah, Abdul Yusif, Ibrahim Sulley, Emmanuel Toku, Gabriel Leveh, Rashid Alhassan, Gideon Mensah, Kudus Mohammed, Mohammed Iddriss.
Mali: Youssouf Koita, Boubacar Haidara, Djemoussa Traore, Abdoulaye Diaby, Fode Konate, Mohamed Camara, Hadji Drame, Mamadou Samake, Ibrahim Kane, Jiddou Salam, Lassana Ndaiye.
Follow us on twitter @sports24gh| Facebook – sports24gh
Email: sports24ghana@gmail.com| info@sports24ghana.com
www.sports24ghana.com