Roger Federer overcame a patchy start and fierce resistance, quashing the hopes of British qualifier Dan Evans to reach his 20th straight Australian Open third round on Wednesday.
There was a sense it would take an off-day from the 20-time Grand Slam champion and Evans playing out of his skin to turn the tables on their two prior meetings – a straight-sets ledger in Federer's favour at Wimbledon in 2016 and at Hopman Cup in 2017.
But that is exactly what transpired early on under swirly, cool conditions on Wednesday, as Federer took time to find his range before pulling clear, 7-6(5) 7-6(3) 6-3.
"I think I couldn't pull away early in the match," Federer admitted. "Always helps if you sneak a quick break. I might have had that midway through the second set but I think he played very well, to his credit … In the beginning, a bit of the day session, bit of the breeze, and him playing well."
The 189th-ranked Evans was the last British man standing after Andy Murray, Kyle Edmund and Cameron Norrie crashed out at the first hurdle, but was considered a long shot at creating too many concerns for the two-time defending champion.
He had made the fourth round at the Australian Open two years ago, though, and looked immediately comfortable at Rod Laver Arena, standing toe to toe as the Swiss shanked balls early on.
"I've seen him play some really good matches over the years," Federer said. "I see why he can cause difficulties to players. He was feeling it today, I thought. He was very sort of cat and mouse a bit."
Evans saved a set point on serve and came out swinging in the first-set tiebreak.
Finally out-manoeuvred as he conceded on set point No.2, the Brit could only look skywards with a grin.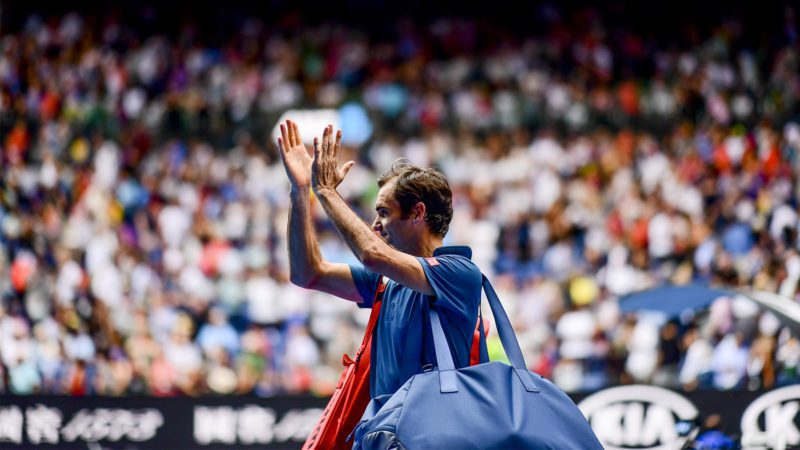 It was as good as he could give, but no cause to fade quietly.
Federer had lost just once in 27 prior showdowns with qualifiers at Grand Slams – to Croat Mario Ancic at Wimbledon 2002 – and looked to be comfortably on his way when he snatched a break in the opening game of the second set.
Evans, though, simply would not lie down without a fight. He saved two set points on serve and ripped a backhand pass to break as Federer served for the set.
But it was a more authoritative Federer who dominated the tie-break and eventually the third set to set a meeting with American young gun, Taylor Fritz, a four-set winner over Frenchman Gael Monfils.
The Swiss certainly would not underestimate how far the 21-year-old had come, having been pushed in their only prior meeting 18 months ago.
But he left no doubt which names he expected to be favourites for the majors in 2019.
"I mean, look, I think we know how to win slams, Novak, Rafa, myself," he said. "Rafa has to be the No.1 favourite – I don't care how he feels – before the French.
"Novak is always a favourite on the hard courts, basically any court of his feeling if he plays like last year.
"Maybe just because of my amount of titles I have at Wimbledon and other places, maybe you also have to put me in the mix every time, as well … I think it's fair to say that even though [Zverev] has not ripped through those slams yet, he will go deep this year definitely at one of them, maybe even here. We'll see."
Source: Dan Imhoff
www.sports24ghana.com