The colossal upset that few saw coming has ended Roger Federer's quest for a record-extending ninth Wimbledon championship and 21st Grand Slam title.
On the relatively unfamiliar surrounds of No.1 Court, Federer was stunned by South African Kevin Anderson in an epic quarter-final. To pinch a line from Dorothy in the Land of Oz, there really is no place like home.
Not that the venue can be blamed for a 2-6, 6-7(5), 7-5, 6-4, 13-11 result that the unflappable eighth seed thoroughly earned with 28 aces among 65 winners. Only four men had beaten Federer from two sets to love down. By inflicting the Swiss master's earliest loss at the All England Club since being stunned by Sergei Stakhovsky in the 2013 second round, Anderson makes it five.
"I just kept on telling myself I have to keep believing and I kept saying that today was going to be my day, because you really need that mindset taking the court against somebody like Roger,'' said Anderson, who saved a match point in the third set.
"If you go out there with doubts, or unsure what's going to happen, like I maybe did a little bit in that first set, it's not going to go your way. I just gave it my all and very ecstatic to get through that.
"As I said in the beginning of the week, my first goal was to try and go one step further than my best result here, but I also said that I wanted to put myself in these positions, so obviously fantastically happy about today. I've put myself in (with) a shot of hopefully playing on Sunday, so right now I'm going to have to really recover a lot and be ready for my next match on Friday."
Pre-match suggestions that Federer would be so unsettled by his first match away from his favourite court since his 2015 quarter-final that he may – gasp – even drop a set seemed fanciful after an opening 26 minutes dominated by the Swiss. The only oohs and aahs during a commanding first set came from the 11,000-strong crowd marvelling at the exceptional quality of the No.1 seed's play.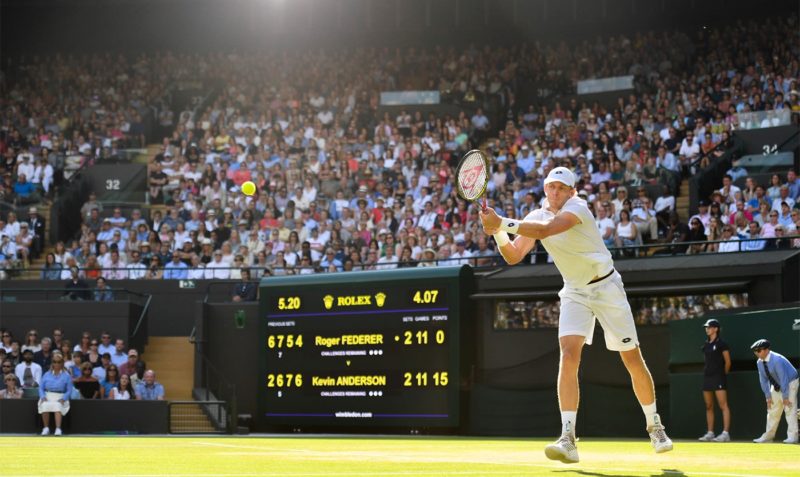 But, then, from nowhere, a couple of backhand errors saw Federer facing just his fifth break point of the Championships, which Anderson promptly converted. This was quite some development, for Federer had last dropped serve in the eighth game of the first set of his 2017 semi-final against Tomas Berdych, then won the next 85.
As Anderson was settling into his task, Federer came off the boil just slightly, although it should also be said that his level had been scaldingly hot. The South African cranked up his return game, aware that he needed to avoid the baseline exchanges and longer points that were rarely being won.
Even when Federer struck back in a fifth game notable for an exquisite backhand lob winner, the match had tightened. Anderson saved a match point in the third set, but then immediately broke Federer with a backhand return winner down the line to lead 6-5.
The Swiss was struggling with his timing, particularly on the forehand side, and also with his equilibrium, for what had started out so smoothly had hit a bumpy patch he had not experienced at the All England Club for quite some time.
Federer had three chances to force a tie-break, but a combination of his own forehand errors and Anderson's unwavering resolve enabled the challenger to serve out the set with a thumping ace. After more than two hours of play, the Wimbledon stretch of 34 successive sets was interrupted, as his 32-year-old opponent doggedly refused to go away.
Anderson had not won a set in the pair's four previous matches, but his belief and confidence continued to grow. Even as others doubted, he was both fearless and aggressive, seeming to be on top early in the fifth set before Federer steadied. Still, on and on went a remarkable serving display from both players.
This is Federer and the surface is grass so it seemed inevitable that Federer would eventually find a way. But not this time. At 11-11 in the fifth set, as a fan called out during one point and a plane flew over noisily in another, a netted Federer forehand gave Anderson the decisive break and the lead for the first time.
He served it out in four hours and 14 minutes, to become the first South African man to reach a Wimbledon semi-final since Kevin Curren in 1983.
Source: Linda Pearce|| Wimbledon
www.sports24ghana.com