Arsenal have named former Paris Saint-Germain manager Unai Emery as their new manager.
Emery, 46, will take over from Arsene Wenger after departing the Ligue 1 club this month after his contract expired.
Former Everton and Arsenal player Mikel Arteta seemed destined for the role before an eleventh-hour decision by the board to opt – unanimously – for Emery.
Emery told the club website: "I am thrilled to be joining one of the great clubs in the game.
"Arsenal is known and loved throughout the world for its style of play, its commitment to young players, the fantastic stadium, the way the club is run. I'm very excited to be given the responsibility to start this important new chapter in Arsenal's history.
"I have met Stan and Josh Kroenke and it's clear they have great ambitions for the club and are committed to bringing future success.
"I'm excited about what we can do together and I look forward to giving everyone who loves Arsenal some special moments and memories."
Emery will face a mammoth rebuilding task after the Wenger era ended in disappointment, but the former Sevilla boss is no stranger to silverware.
With the LaLiga club, he won the Europa League in three consecutive seasons between 2014-16, having previously led Valencia to a third place finish.
He then moved to France, where he won the Ligue 1 title this season, as well as the league cup and Coupe de France in both his seasons with the giants.
Majority owner Stan Kroenke said: "We're delighted to welcome Unai to Arsenal. He's a proven winner. We're confident that he is the right person for the job and that he will work to deliver the triumphs our fans, staff and everyone who cares about Arsenal want.
"Several things stood out during his interview and the entire process; his football knowledge, energy, determination and love of the game. His familiarity with our club and our players, the Premier League and the game in Europe were all very impressive. He shares our vision to move forward, to build on the platform created by Arsène Wenger and help this club enjoy greater success."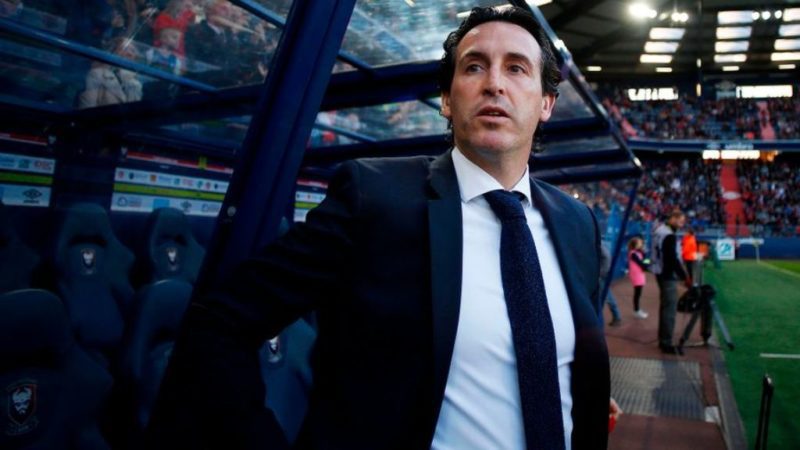 Announcing the appointment, chief executive Ivan Gazidis said: "Unai has an outstanding track record of success throughout his career, has developed some of the best young talent in Europe and plays an exciting, progressive style of football that fits Arsenal perfectly. His hard-working and passionate approach and his sense of values on and off the pitch make him the ideal person to take us forward.
"We conducted a confidential, wide-ranging and rigorous search involving extensive background references, data and video analysis, and personal meetings with all the candidates we shortlisted. All were interested in the position and we were unanimous in our choice of Unai to drive the next chapter of our history."
Emery was ushered out of the door at PSG despite succeeding domestically as he failed to deliver in the Champions League.
Chief executive Ivan Gazidis and the remainder of the Arsenal board will be hoping he can bring a raft of silverware to north London, with the Gunners having not won the Premier League title since 2004.
Wenger recently revealed he would play no part in picking out his replacement in the same way that Sir Alex Ferguson selected David Moyes for Manchester United.
He said: "It's not my [decision].
"I always feel that the most important thing in a football club is that everybody does his job.
"My job is to take care of the team, of the results and of the finances in the transfers. That's what I did. My job is not to select the next manager."
Source: Dimitri Kondonis|| Yahoo
Follow us on twitter @sports24gh|| Facebook – sports24gh|| Instagram – sports24gh
Email: sports24ghana@gmail.com|| info@sports24ghana.com
www.sports24ghana.com