Despite having broken her foot in February last year, Dina Asher-Smith bagged herself a silver medal in the 4x100m at the World Championships in London later in the summer.
It goes without saying that the British 100m and 200m record-holder knows a thing or two about setting goals and maintaining the motivation required to achieve them. So, with a competition-filled 2018 ahead of her, how will she set about realising her aims?
Here, the 22-year-old gives her top tips for getting yourself mentally in shape.
Set realistic goals
"Setting sensible goals is the key to making sure you achieve them. When I broke my foot last year, with the World Championship just less than six months away, I told myself that at the bare minimum I wanted to be at the World Championships. Once I was fit enough and ready to run, my goal shifted from wanting to be there to wanting to make the final. When I made the final, I made sure I wanted to get a medal.
"Set small, progressive goals. That's going to be really important in achieving your long term big goal."
Become better organised
"Making time and being organised is the key in trying to achieve your goals. We're all so busy that it's easy to throw everything aside and say, 'I don't have time for this' and just forget about them. You can't do that when you really want to achieve something.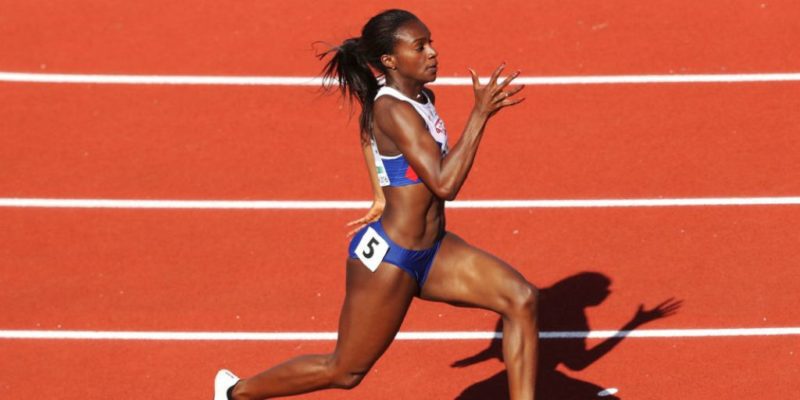 "When I was at university I was trying to juggle studying whilst also trying to be an Olympic and world medallist. I had to make sure I was organised, to ensure I did my work but also made time to go and train to increase my chance of being successful in both of them."
Be competitive with yourself
"Staying motivated is key when you are trying to achieve your goals. Even when the competition is months away, there are things you can do to give yourself small little motivations to keep yourself going. I'm a naturally competitive person, so when I'm at training I'm always trying to beat how many reps I did in my last set."
Take care of the little things
"Remaining focused is a really essential part of trying to achieve your goals. It's easy to think, 'I won't do my warm-up lap' or 'I'll just have a bit of cake' but you have to consider whether that decision is going to help or hinder your path to success. It's hard to maintain focus but doing the little things continuously will help you achieve your goals in the end."
Don't dwell on bad days
"When things don't go to plan, you shouldn't dwell on it. You should always use it as an opportunity to better yourself, learn from it and move on. I always think, okay how can I turn this negative into a positive and make me stronger as an athlete and a person overall. Don't dwell on the mistakes, just use it to spur you on and keep you motivated."
Get the help you need
"It's okay to get a little help with your training. Even Olympians need training partners, we need friends and family and we need training gear to help us achieve our goals. Use it to further your training and make sure you can achieve your goals in the long term."
Source: AW
www.sports24ghana.com