Croatia feverishly prepared Saturday for its first ever World Cup final as the small Balkan nation swells with pride at its team's performance and firmly believes they can win against France.
Red-and-white chequerboard patterns are everywhere, on car hoods, in shop windows, trams, buses as well as on jerseys worn by waiters, shop workers or TV presenters.
Butchers arranged their meat in red-and-white displays while a Zagreb beauty salon postponed offering French manicures until Monday in a sign of support to the national team.
"What was Brazil once, is Croatia now… Croatia are the world champions!" say the words of a newly-popular song aired by radio and TV stations to boost morale.
T-shirts with the caption "Croatia World Cup winners – Russia 2018," are on sale, while waiters in a Zagreb bar have been "drawing" portraits of Croatian players on the froth of coffees.
"The squad's success is an inspiration… it has brought optimism that has cast its spell over the whole society," said Gordana Deranja, head of the Croatian employers' association.
Newspapers in the approximately four-million-population country were ecstatic, praising the team known in Croatian as "Vatreni" (the Fiery Ones), whose achievement of reaching football's pinnacle has not been seen for such a small nation since Uruguay's titles in 1930 and 1950.
By beating England to make the final, Croatia have now surpassed the achievements of the team that finished third at the 1998 World Cup in France.
Excited fans in Zagreb have been warming up for the decider by visiting a museum showcasing the country's football history.
Called "Budi Ponosan" ("Be Proud" in Croatian), the museum guides visitors through famous matches and football milestones with the help of displays, video clips and radio commentaries of famous matches.
Tens of thousands of Croatians are expected to watch the match which kicks off at 5:00 pm (1500 GMT) on giant screens in squares and bars throughout the Adriatic country.
About 8,000 people were expected to watch in an ancient Roman amphitheatre in the northern port of Pula, an organiser said.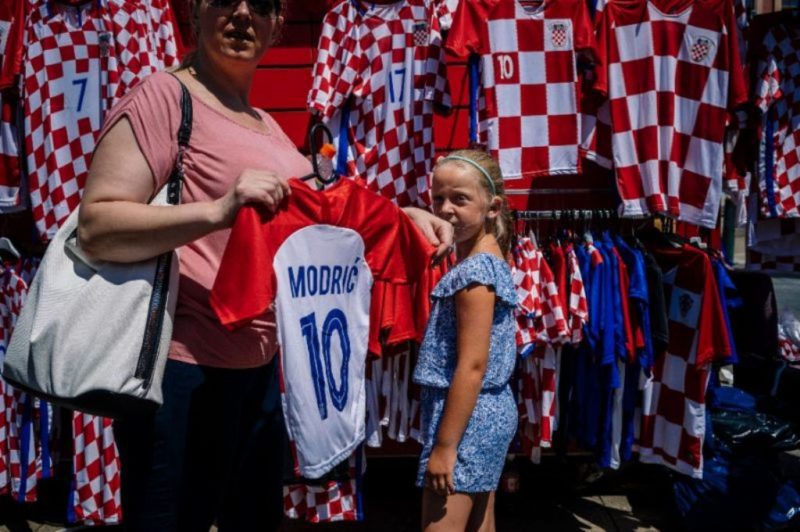 – 'Once in a lifetime' –
"Tomorrow there will be 4.5 million of us on the pitch!" read the front page of Novi List quoting Ivan Rakitic, who struck the decisive penalties in shootouts against Denmark and Russia to help seal Croatia's final berth.
An additional 1,230 tickets for the final in Moscow were sold out half an hour after being released overnight, state-run HRT television reported Saturday.
Tickets for 10 charter flights for Moscow carrying about 2,000 fans have been snapped up, while authorities in Zagreb have worked overtime to issue more than 4,300 passports since the quarter-finals.
Outside the capital, World Cup fever is also rampant.
"We expect a major fight and a major victory," said Mario Vincelj, from Novo Selo, a tiny village some 60 kilometres (37 miles) south from Zagreb near the local inn whose owner is offering roasted suckling pigs for free to clients Sunday.
"The French are bigger, stronger … our players are tired, but we know that tomorrow they will leave their hearts on the pitch," said Vincelj.
The match will be a "historic moment for the country. It happens once in a lifetime", he added.
Leading Croatian politicians have also been leveraging the team's success to promote the country.
President Kolinda Grabar-Kitarovic gave a Croatia jersey to British Prime Minister Theresa May before the semi-final against England, while visiting US Secretary of Defence James Mattis posed Friday with a football scarf given him by his Croatian counterpart.
Regardless of the result in Moscow, the team will be given a heroes' welcome in Zagreb Monday, with more than 100,000 people expected.
Prime Minister Andrej Plenkovic urged employers to allow their workers leave their jobs earlier Monday to attend what he called a "magnificent welcome party".
And if Croatia win, the government is considering declaring Monday a day off, while the president will formally honour Dalic and the players.
Meanwhile, the Croatian Football Federation (HNS) joked on Twitter.
"Hey French team! Just to make sure – Lilian Thuram is not in your World Cup squad this year, right?"
The defender scored twice for France — his only two international goals — in their 2-1 win over Croatia in the 1998 semi-finals.
Source: AFP
www.sports24ghana.com