Fans sporting red headbands with "Canelo" printed on the front or hats with "GGG" in giant block letters gathered Monday to officially kick off boxing's next megabout.
With the Floyd Mayweather-Conor McGregor fight in the rearview mirror, it was finally Saul "Canelo" Alvarez and Gennady "GGG" Golovkin's time in the spotlight.
The two middleweight foes greeted fans during public workouts at L.A. Live to promote their Sept. 16 HBO pay-per-view showdown at T-Mobile Arena, where Mayweather dispatched McGregor with a 10th-round technical knockout Saturday.
But before Alvarez and Golovkin retook the marquee, the two camps offered their critiques on Mayweather's victory over the UFC superstar who was making his boxing debut.
"I bought the fight to see the show, not a fight," Alvarez said in Spanish. "Everyone buys it for their own reasons. We all bought it to watch a show. If someone bought it to watch an actual fight that's their problem.
"But I didn't see a fight. It was a show."
Alvarez's promoter, Oscar De La Hoya, had harsher words about the crossover bout that stole headlines away from his fight.
"(Expletive) YOU #MayweatherVsMcGregor. Both of you are disrespecting the sport of boxing," De La Hoya tweeted during the Mayweather-McGregor weigh-in on Friday.
De La Hoya didn't use the "I was hacked" excuse when asked about the angry tweet on Monday.
"Yeah, that was me," De La Hoya said. "(I was) defending my sport. That's it. I love boxing and boxing gave me everything I had, and I'm a promoter for many years to come. I just thought that it was a fraud (fight) and I still think it's a fraud."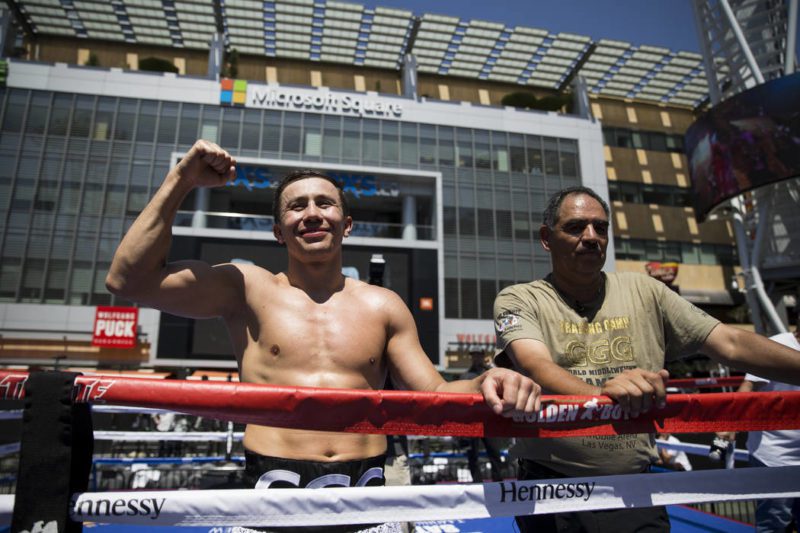 Tom Loeffler, Golovkin's promoter, had no problem with the Mayweather-McGregor bout being made. But he was worried the match would hurt the sport and affect the Alvarez-Golovkin bout.
"We were just hoping it wouldn't be a disaster where people were going to say they were never going to buy another pay-per-view," Loeffler said. "I'm sure there were a lot of disappointed Irish fans that were up there in Vegas, but at least some fans got some entertainment out of it.
"I don't think it's going to hurt this event. We weren't negative on that event, we just made it clear this is the real boxing match, and that was a spectacle."
Golovkin said he didn't watch Saturday's fight and doesn't plan to view a replay. He said McGregor should stick to mixed martial arts.
"McGregor in boxing? No. He's not a boxer," said Golovkin, the three-belt middleweight champion. "He's a fighter, he's a UFC fighter, he's not a boxer."
There's no doubt Golovkin (37-0, 33 knockouts) and Alvarez (49-1-1, 34 KOs) are boxers, and to many, two of the best in the world. They will get to duke it out in less than three weeks with the potential of delivering the best fight in a long time.
"It's the biggest fight in boxing," Golovkin said. "The biggest fight of my career, and Canelo, he's right now the biggest champion from Mexico and the biggest name for pay-per-view. It's very interesting."
Golovkin and Alvarez, the ring is finally yours.
Source: Gilbert Manzano| RJ