He was 20 years old, an age when most young men are enjoying college life. But Saul Alvarez was, as he has been during most of his professional life, different.
Tales of this wunderkind had reached the ramshackle boxing gym above an automobile repair shop in one of the decidedly less glitzy sections of Las Vegas. Alvarez had come in here to work in front of the media before what was then the biggest fight of his life, a 10-rounder against Jose Cotto on a Floyd Mayweather undercard.
He was an unknown quantity then. He'd enthralled fans in his native Mexico almost since the day he turned pro a few months after his 15th birthday, partially because of the mop of red hair that earned him his nickname, Canelo, Spanish for cinnamon.
But it was also because of the unusual approach he brought to his job. He was a finisher from the earliest days who didn't fool around or seek out the spotlight. There was a grim intensity about him that was much more like the grizzled veterans and not the youngsters just learning the ropes of professional boxing.
"He's serious about his job, he's serious about his preparation and he understands his responsibilities," said Julio Cesar Chavez Sr., by far the greatest Mexican boxer of them all.
Boxing is deeply entrenched into the Mexican culture, and its biggest stars become national heroes.
Much, though, is expected from those fans in return for their adulation. They don't expect a win every time out, though it helps. But they expect a competitiveness, a fearlessness, a willingness to exhaust every option in search of victory in exchange for their full and undying support.
Alvarez, now 27, faces the man who could help him win that support forever on Saturday when he takes on Gennady Golovkin on HBO Pay-Per-View at a sold-out T-Mobile Arena.
Golovkin is 37-0 with 33 knockouts and the kind of vicious slugger whom Mexican fans have come to adore. His team has dubbed his style "Mexican style" and Golovkin goes out of his way to embrace that persona.
"This is more than a fight; it's a real Mexican fight," Golovkin told HBO Sports. "[Trainer] Abel [Sanchez] brings a Mexican style to me. I love fighting Mexican style. I love Mexican food and eat it every day. I love the Mexican tradition. I am surrounded by it. I have many Mexican friends. I have Mexican blood.
"Seriously, just one punch changes a fight, a life. Just one punch. Canelo has power. He has speed. He knows me. I know him. My team has Plan A, B, C, D. And his team has the same. He's ready for short distance, long distance, decision. I do not know. Who lands the big punch first? It is not a fight. It is a war."
That is the cauldron into which Alvarez walks on Saturday. He's facing a man so focused, so driven, so intent on winning that he was willing to miss the birth of his daughter in order to maintain his preparations.
Golovkin's wife, Alina, gave birth to a daughter on Friday, the couple's second child. Alina Golovkin was overdue, and there was fear within the camp that it would distract the boxer. But on Friday, as Alina went to the hospital to deliver the baby, Golovkin told Sanchez he would train as normal in Big Bear Lake, California. Only after training was complete did he make the drive to his Los Angeles home to see his wife and new daughter.
Alvarez, though, is similarly focused. He's an engaging man in private, but he's also one who won't let outside distractions impact him.
He's a man of his convictions, as well, and though Golovkin holds the IBF, WBA and WBC middleweight belts, Alvarez has opted only to fight for the IBF and WBA titles.
The WBC is based in Mexico and its belt is the most prized possession in the sport for Mexican and Mexican-American fighters. But Alvarez declined to have the WBC participate in his May bout with Julio Cesar Chavez Jr. because he feels WBC president Mauricio Sulaiman had made him look bad in the past.
Sulaiman denies it, but Alvarez had his mind made up and wouldn't budge. He's not fighting for the WBC belt this week, despite Sulaiman's desperate pleas and aggressive moves to remain involved.
This fight is the most significant for Alvarez since his 2013 bout with Floyd Mayweather. Though he defeated Miguel Cotto in 2015 to capture the linear middleweight title – which he later relinquished – the Mayweather fight was the most significant of his career.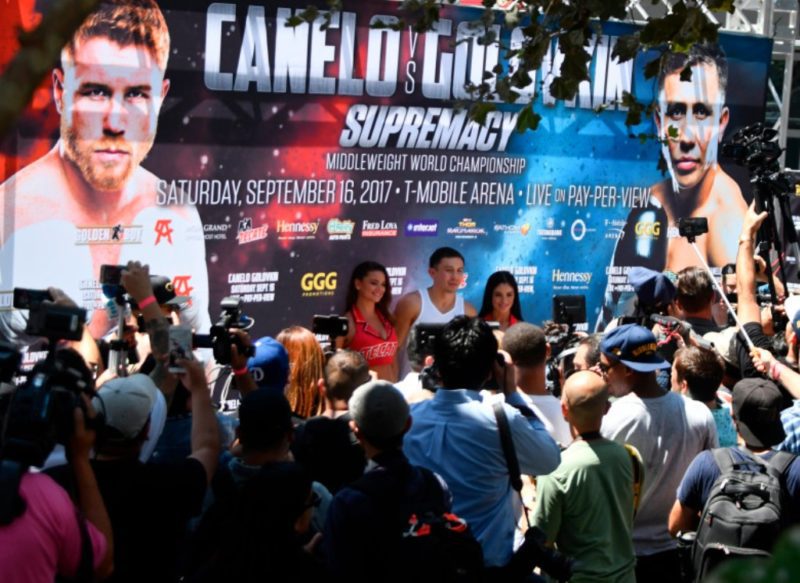 Mayweather outboxed Alvarez, who had never seen anything like Mayweather in his previous 43 fights.
Alvarez has a deal with Under Armour and prior to his bout with Mayweather, T-shirts carrying his likeness were flying off the shelves at an Under Armour outlet store on Las Vegas Boulevard, a couple of miles south from where Alvarez will square off with Golovkin at T-Mobile Arena.
Six months after a majority decision loss to Mayweather, Alvarez returned to fight Alfredo Angulo. This time, though, the Alvarez T-shirts were nowhere to be found at the Under Armour outlet. A reporter asked a sales associate about the lack of them, given the fight that was approaching and that Alvarez remained under contract with Under Armour.
The sales associate explained that fans weren't happy with his effort against Mayweather and that many of the shirts they purchased before the fight were returned after it.
The expectations he faces, and that he's dealt with since he was 15, are off the charts.
He's laid low for most of this training camp, closing his gym to media for the last six weeks. He's made few public appearances and granted few interviews since the beginning of August.
Alvarez has always been a serious guy, but he knows that for as great of a career as he has put together, this fight in some ways is a make or break for him.
Middleweight is one of boxing's glamour divisions and there have been a slew of significant fights. Alvarez knows this fight could be – almost has to be for him to remain the idol he has become among Mexicans – another in a long line of great middleweight matches.
"Without a doubt, this can be one of the best fights in history," Alvarez said. "On paper, obviously it's going to rival some of those big fights [in history], but it really depends how the fight comes out, how it pans out. I'm going to do my part to make it memorable so I can go down in history as one of the best fighters. I know that for sure. I'm going to do my part. But yeah, it can easily be considered one of the best fights in history."
It takes two to make a great fight, which is why bouts like Muhammad Ali-Joe Frazier III, Larry Holmes-Ken Norton, Aaron Pryor-Alexis Arguello, Marvelous Marvin Hagler-Thomas Hearns and Diego Corrales-Jose Luis Castillo I are so revered among boxing fans. Each fighter emptied his tank in each of those fights.
Alvarez quietly angered many in his fan base in May 2016 after he devastatingly knocked out Amir Khan. He walked over to the ropes where Golovkin was seated and urged him to come into the ring. It appeared the big fight was next.
But then Golden Boy Promotions put the fight on ice and gave Alvarez essentially two more tune-ups, easy wins over Liam Smith and Julio Cesar Chavez Jr. De La Hoya's contention was it was delayed so that Alvarez could become a full-fledged middleweight, but many of Alvarez's fans took it as a sign of weakness.
There is little doubt now, looking at the new muscles rippling around his chest, arms and shoulders, that Alvarez has transformed into a full-fledged middleweight. His prize for that is facing the best middleweight of the last seven years, the longest-reigning active champion in boxing.
He needs to perform, but he's always needed to perform. That is old hat to him. He is light-hearted, he says, when he's away from the gym, but when the gloves are on, it's all business.
"We do a little bit of everything [to relax and pass the time]," Alvarez said. "We sing. We joke around in camp. We like baseball. We go to baseball games. We're doing what we like. We ask for these fights. These are the fights we want, so we're enjoying the moment. But I can tell you one thing that there isn't: there isn't any fear. There isn't any fear whatsoever because we're ready for this fight. We asked for it; this is what we wanted."
Source: Kevin Iole| Yahoo