Canelo Alvarez on Monday was asked what a victory over middleweight champion Gennady Golovkin would mean to him, and to his native Mexico. Alvarez pulled no punches.
"It's very important for me, it's very important for Mexico – for my people, for my country," said Alvarez, who Sept. 16 will challenge Golovkin at T-Mobile Arena in Las Vegas (on HBO pay-per-view). "My team and I have basically said that this fight is a resume of 14 years of hard work, of everything we've been doing.
"This fight is very important for me, the win is very important for me, to continue writing history and to continue my legacy in boxing."
Alvarez and Golovkin, of Kazakhstan, were on hand at L.A. Live to play host to a public workout ahead of their showdown. While Golovkin seemed a bit subdued, Alvarez spoke in more animated tones during roundtable interviews inside Microsoft Theater as fans waited outside in the heat to see what their favorite fighter would show them.
At one point, Golovkin was asked what Alvarez does best in the ring.
"I don't know, I don't know," said Golovkin, who is not yet fluent in English, but still typically talks more than he did.
His trainer, Abel Sanchez, stepped in to lend a hand.
"He (Alvarez) has done a lot of things well, but he's done a lot of things well against opposition that was not Golovkin," said Sanchez, of West Covina.
Golovkin was sure about one thing.
"It's biggest fight of my career," he said.
That can be said for both fighters. Golovkin is 37-0 with 33 knockouts. He is coming off his toughest fight, a narrow unanimous-decision victory over Daniel Jacobs this past March in New York City. Prior to that, Golovkin had knocked out 23 consecutive opponents.
Alvarez, a hard puncher in his own right – he's 49-1 with 34 knockouts – acknowledges that Golovkin will be the most vicious hitter he has faced.
"Yes, absolutely," said Alvarez, 27. "I know, and we've prepared for that. I know he's the most dangerous. I've said it. He's the most dangerous fight to this moment, but that's what we've prepared for.
"And we also want to show him that on this side, there's a lot more to give, too."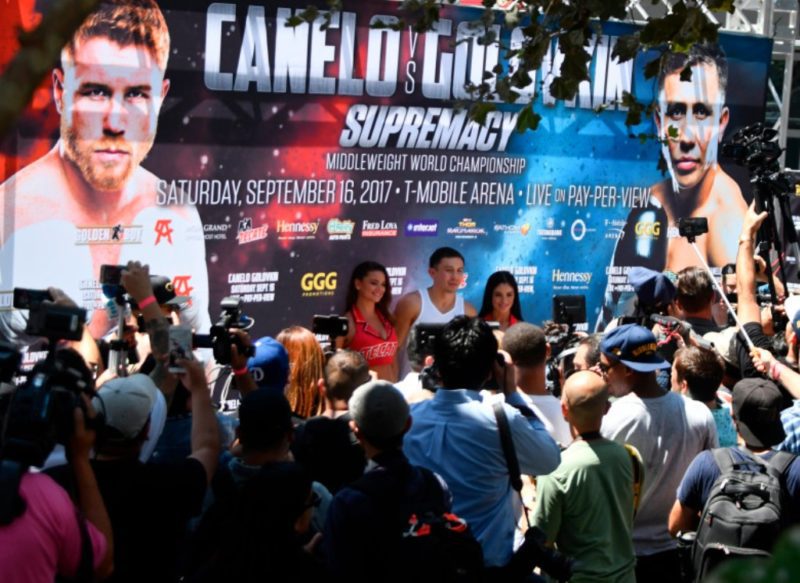 This bout is in part being touted as one between the two best middleweights in the world in their prime. But Golovkin is 35, and since he absorbed more punches from Jacobs than from anyone else, one has to wonder about that.
Of course, Jacobs probably outweighed Golovkin by 10 pounds on fight night after both made the 160-pound weight the night before. Even so, 35 for a boxer is not often considered prime.
Sanchez begs to differ. If anything, he said, the boxing world hasn't seen Golovkin's best.
"I don't think we've really reached that yet," Sanchez said.
The reflexes, the hard work in the gym – none of it has changed, Sanchez said.
"I don't see the decline yet," he said. "We may be close, but I don't see the decline yet."
This fight could have been made a year ago. After Alvarez knocked out Amir Khan in the sixth round at T-Mobile Arena in May 2016, he called out Golovkin in the post-fight news conference. His promoter – Oscar De La Hoya – did, too.
Not long after, De La Hoya and Alvarez announced that Alvarez would relinquish the WBC middleweight belt he held at the time, instead of taking on Golovkin in a unification bout that fall.
De La Hoya and Alvarez didn't like a WBC-imposed deadline to make the fight, and De La Hoya believed Alvarez still wasn't a full-fledged middleweight. De La Hoya and Alvarez took a lot of heat for that. That could be additional incentive for Alvarez, but De La Hoya said there is plenty of that on both sides.
"Yeah, I mean, there is so much motivation," De La Hoya said. "These two guys, first of all, they want to prove who the very best is; that's the bottom line."
Source: Robert Morales| PE