The executive director of the Nevada State Athletic Commission has filed a formal complaint against Saul "Canelo" Alvarez for anti-doping violations. That leaves the Mexican boxer's May 5 rematch with Gennady "GGG" Golovkin in major jeopardy, as Alvarez is likely to be suspended until at least mid-August.
The complaint, filed Tuesday and revealed Thursday, relates to two dates in February on which Alvarez submitted out-of-competition samples that tested positive for Clenbuterol, a banned substance that helps burn fat and increase lean muscle mass. When news of the failed tests emerged this month, Alvarez claimed that he had accidentally ingested the substance while eating tainted Mexican meat, a problem — and excuse — that has come up in the past for a variety of athletes.
The NSAC's Robert Bennett, however, was having none of it, saying in his complaint that "Alvarez's utilization, ingestion and/or consumption of Clenbuterol, whether intentional or not, constitutes an anti-doping violation." He added that "by allowing Clenbuterol to enter his system, Alvarez engaged in conduct that reflected discredit to unarmed combat and he is guilty of foul or unsportsmanlike conduct that was detrimental to a contest."
The NSAC issued Alvarez a temporary suspension last week and it set a hearing for April 10, at which he and his representatives could plead his case. Bennett noted in his complaint that commission regulations call for suspensions of at least nine months and no more than 24 months, but his agency has tended to give one-year bans to first-time offenders, with the chance to cut them in half if the athletes are cooperative.
The filing of the formal complaint, though, reportedly pushed the hearing to April 18, when the commission has a regularly scheduled monthly meeting. That date comes perilously close to when Alvarez and Golovkin are set to fight, leaving the latter's camp almost no realistic chance to line up a compelling replacement should Alvarez's suspension be upheld.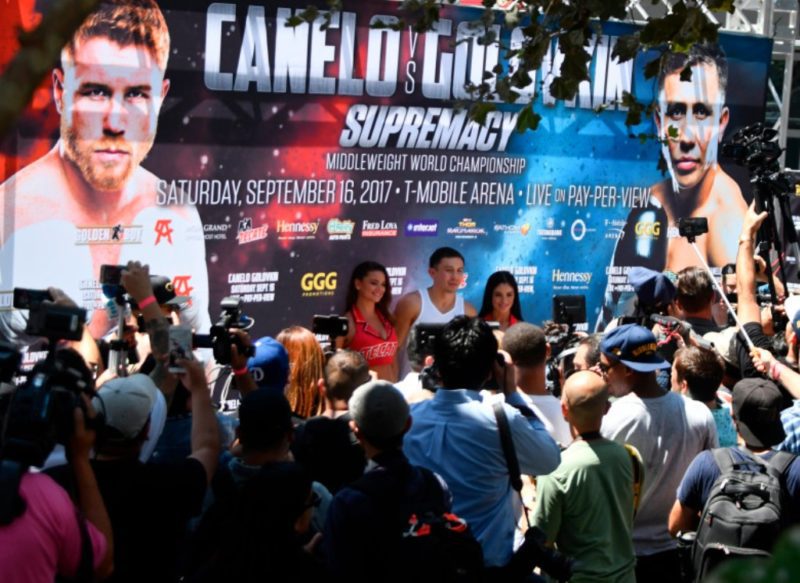 MGM Resorts International, which owns T-Mobile Arena in Las Vegas, where the middleweight title fight is to be held, has already signaled a major concern about whether it would actually take place. On Wednesday, the company sent ticket buyers notices that they would be offered full refunds if the rematch is called off.
Asked Thursday evening if he still thought the fight would happen, Golovkin said, "Maybe," adding that he was "ready." Last week, the Kazakh boxer blasted both Alvarez and his promoter, former boxing champion Oscar De La Hoya, as longtime cheaters, saying, "Again with Mexican meat? Come on.
"I told you, it's not Mexican meat. This is Canelo. This is his team. This is his promotion," Golovkin continued. " … Canelo is cheating. They're using these drugs, and everybody is just trying to pretend it's not happening."
As some boxing analysts noted, if Alvarez gets a one-year suspension, it would be made retroactive to the date of his first failed test, Feb. 17, and if that ban is then reduced to six months, he would be eligible to fight again on Aug. 18. "That means the rematch of his controversial draw last September with Golovkin — who most thought won — could be rescheduled for the Mexican Independence Day weekend in mid-September," wrote ESPN's Dan Rafael.
Of a possible replacement for Alvarez, Golovkin's promoter, Tom Loeffler, said to Yahoo Sports's Kevin Iole, "I haven't spoken to anyone specifically because I don't want to jeopardize the Canelo fight. The priority is to fight Canelo.
"At the same time, if for some reason there is an adverse ruling and Canelo is unable to fight, we have to make sure we get a quality opponent for Gennady, because he has made clear he wants to fight on May 5."
Source: Des Bieler
www.sports24ghana.com