After spending much of his career fighting on the West Coast, Saul "Canelo" Alvarez decided to move up to super middleweight for his New York City debut in an effort to capture another world title.
Mission accomplished.
Taking his talents to the legendary Madison Square Garden for the first time, Canelo (51-1-2, 35 KOs) dropped Rocky Fielding (27-2, 15 KOs) four times en route to a third-round TKO to become the WBA (Regular) super middleweight champion in front of a sold-out crowd of 20,112.
The bout with Fielding served as the first fight of Canelo's historic five-year, $365 million deal with sports streaming service DAZN.
It was an absolutely savage display of body punching as Canelo wasted little time rearranging the intestines of the taller Fielding, who held a six-inch height advantage. That was literally the only advantage that Fielding had as he was a heavy betting underdog against the man who recently became the unified WBA (Super), WBC, Ring Magazine and lineal middleweight champion by defeating Gennady "GGG" Golovkin in September. Try as he might, Fielding had absolutely no answers for Canelo's power.
It was evident from the outset that Fielding was overmatched as Canelo rumbled forward and immediately sank wicked hooks to the torso of the Liverpool, England, fighter. A hefty Mexican presence at MSG roared for Canelo with every power shot landed. Fielding attempted to fight off his Mexican opponent, but the tank was rolling on this night and there was no way to stop it from crushing what was in front of him.
A left hook to the body during an exchange put Fielding on a knee in the first round. Although he would rise, he wore a look on his face that was intent on survival rather than defending his title.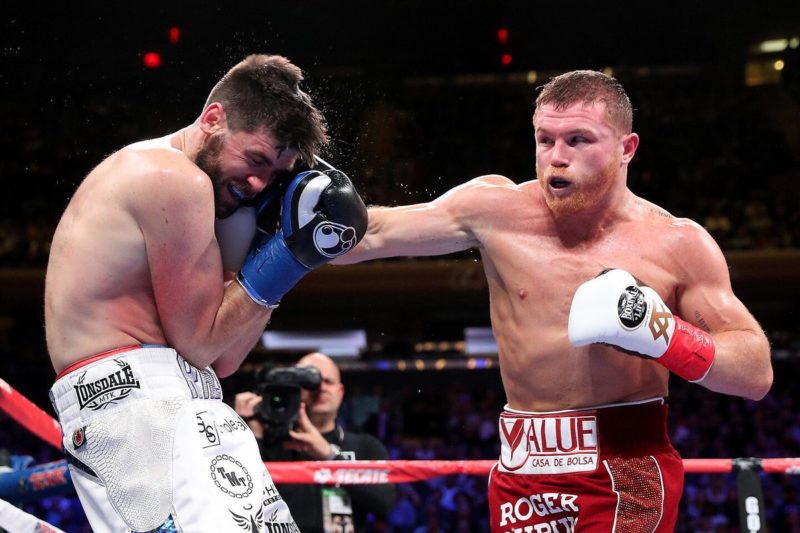 It was only a matter of time until Canelo tore the title from his grip.
The second round was more of the same with Canelo dedicating his attack to the body and Fielding having zero answers for the punishment. His only defense was to fight back, but that left him open to more body shots. Yet another hook to the body yielded the same result, as Fielding grimaced and took a knee.
If nothing else, Fielding had guts — despite Canelo trying to beat them out of him. Fielding made it out of the second frame and threw caution to the wind in the third round and sought a fight-altering power shot.
No dice.
Another exchange saw Canelo wrap a right hook around the Englishman's gloves and put him on the canvas. Perhaps stunned that the shot came to the head, Fielding shook it off and got to his feet with his hands held high. Canelo raced forward and plunged one last hook to the body following a shot to the head. Fielding was down again and the referee mercifully called a halt to the bout at the 2:38 mark.
The highly decorated 28-year-old from Guadalajara, Mexico, adds another trophy to his case, but it is expected that he'll move back down to middleweight for his next fight, which is slated for Cinco De Mayo weekend in Las Vegas. The opponent is unknown, but there are plenty of options. Until then, Canelo can celebrate his accolades and await his next opponent.
Source: Andreas Hale
www.sports24ghana.com