Canelo Alvarez arrived Tuesday at a fight week that many critics, including Gennady Golovkin, suggested would never come.
The Mexican fighter savored the moment, letting it be known that he remembers.
"For the people who said this fight wasn't going to happen [and] for the people who said [I'm] going to get knocked out, the answers will be [delivered] Saturday night," Alvarez said in Spanish. "You'll see.
"I've been in big events. I've been in big fights. I've prepared as I never have for the knockout. I'm motivated to give the fans a beautiful fight and answer a lot of questions."
Golovkin, 35, and trainer Abel Sanchez have sought to accentuate the three-belt middleweight champion's experience, poise and power in the ring, pointing to those assets as the deciding differences against former sparring partner Alvarez, 27, in Saturday's bout at T-Mobile Arena.
"One punch changes a life," Golovkin said. "I have power. I know my power. I understand this is not a game, it's a fight. You might win or you might go to the hospital. This is a real fight."
Golovkin, from Kazakhstan, spoke after his grand arrival at the MGM Grand about the calmness that he experiences while walking to the ring on fight night.
Alvarez's exuberance showed while describing his thoughts as he walks to the ring.
"Angry, focused … all the emotions," Alvarez said, explaining the thrill of the looming challenge in the ring exceeds even his heart-pounding experience of drag racing in Mexico between fights. "That feeling you have when you walk into the ring, it's different and unique."
Alvarez (49-1-1, 34 knockouts), a former two-division champion, will draw an estimated 40 million viewers on Mexican television networks Televisa and Azteca as he tries to defeat slightly favored Golovkin (37-0, 33 KOs).
Alvarez's promoter, Oscar De La Hoya, who put the brakes on sending Alvarez into a Golovkin match after De La Hoya watched one of his champion middleweights, David Lemieux, being stopped by Golovkin in New York's Madison Square Garden in 2015, said he's pleased with what he has seen from Alvarez.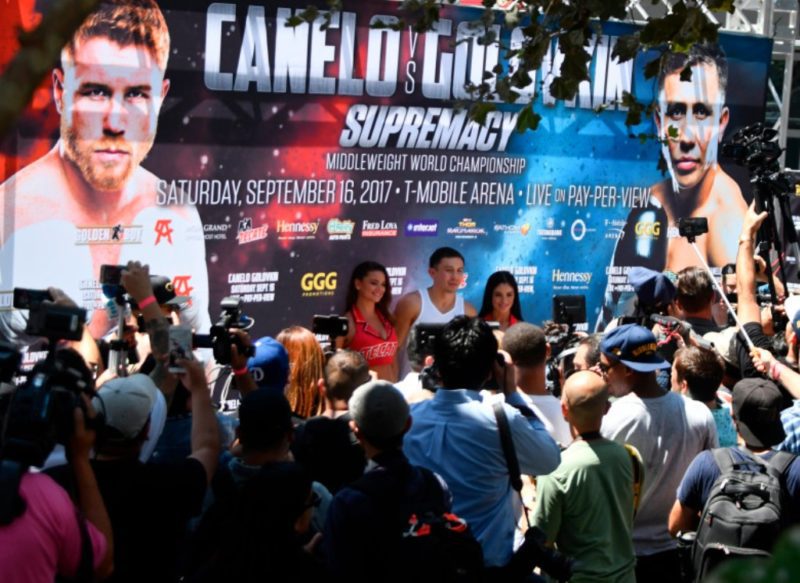 "Relaxed and focused — I like that," De La Hoya said. "That's what you want to see. Nobody's afraid in boxing, especially Canelo."
Sanchez is trying to create a fear factor, saying he expects Golovkin to overwhelm Alvarez because the Mexican couldn't stop Miguel Cotto in a 155-pound fight or Julio Cesar Chavez Jr. in May.
"That he couldn't hurt Cotto or Chavez tells me he'll have a difficult time backing Gennady up," Sanchez said. "If you can't back Gennady up and he's in your face, [Alvarez] is going to get hurt because he's going to get hit. It's a matter of who lands a punch that defines a fight and I believe Golovkin will be the one to do it."
Alvarez said he accepts the suggestion by his 2013 opponent, Floyd Mayweather Jr., to go for body punches against Golovkin.
"I've always believed I can win the fight, and I'm going to win," Alvarez said, contending Golovkin's vulnerabilities "are there. You've got to know how to find them and attack them and you will all see Saturday night. [Body punching] is one of the plans. It's a big risk to stay in there and work, but if you don't risk, you don't run the chance of winning."
Alvarez said he is braced for the type of heavy action produced by legendary Mexican fighters and also great middleweights of the past such as Marvin Hagler, Thomas Hearns, Sugar Ray Leonard and Roberto Duran.
"The styles have the ingredients to make it a fight that will go down in history for several years [great] fights," said Alvarez, agreeing when asked whether the bout could turn vicious.
"That's what I visualize. There's going to be a lot of punishment on both sides in this fight."
Source: Lance Pugmire| LA Times