Ivan Bruce Cudjoe, CEO of Cabic Promotions says they are not going to allow new World Boxing Organisation [WBO] Africa Super Welterweight Champion, Patrick Allotey to rest until he wins the world title.
According to Mr. Bruce Cudjoe, the new African Champion would be given anything he needs to let him reach the top of his career, and hopefully get a world title for Ghana within five years.
Speaking at the Travel Matters office in Accra, Mr. Ivan Cudjoe said winning the title is not difficult like defending it, and the Cabic Management team is going to make sure Allotey remains at his discipline best and take on the best of the world.
"We are embarking on a journey to fame and greatness, and we know its never going to be easy as the road may be smooth and rough, but we are not going to relent on training which is very key for any boxer to succeed" he said.
He promised Allotey that Cabic is fully behind him, so he should just train and keep on winning.
Patrick Allotey who won the Sports Writers Association of Ghana (SWAG) Boxer of the Year in 2014, after winning the World Boxing Council (WBC) International Silver title expressed his gratitude to his managers and promoters with the assurance of going all out to reclaim his old title and add new ones from other boxing bodies.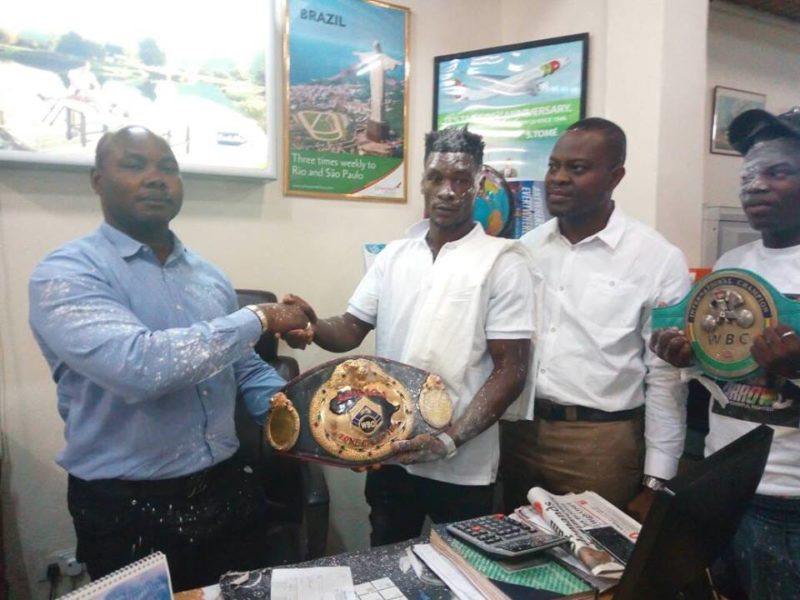 "Am ready to face Kazakhstan's Kanat Islam, whom I lost to two years ago through a controversial decision, he needs to fight me and not run away, for the whole world to see who is the best" he stressed.
Allotey stopped fellow Ghanaian Frank Dodzie in a one sided bout to claim the WBO Africa Welterweight title on a day that Cabic Promotions gave opportunity to many young boxers to display their talent.
Ellis Quaye, a director of Cabic Promotions told Yours Truly they are in boxing to help unearth the hidden talents and their road shows which begun at Osu Duncan's Spot and the Junction Mall will continue at Nima and West Hills Mall in a few weeks.
Media Manager, Hon. Mohammed Amin Lamptey also praised the media for their support and prayed for more boxing events and champions in the near future.
Source: Sammy Heywood Okine
www.sports24ghana.com