Thousands of boxing supporters and enthusiasts thronged the Bukom Boxing Arena in Accra on Thursday, August 17, 2017 to witness the first press conference of the upcoming bout between Briamah 'Bukom Banku' Kamoko and Bastie 'The Beast' Samir.
The humongous crowd lighted the Trust Sports Emporium [Bukom Boxing Arena] chanted with tens of jama songs creating a spectacle of boxing jamboree ahead of September 30 when Bukom Banku [29-0, 22 KO's] and Bastie Samir [15-0-1, 14 KO's] finally cross each other's path in the ring.
Despite been charged 1GHC amidst tight security search at the gate, the vociferous fans of both boxers did not give up as they lined up in circles to entertain and chants several war songs ahead of the big bout.
Bukom Banku who enjoyed a kingly ride to the Trust Emporium once again stole the show when he seized the opportunity to hug his opponent [Bastie Samir] during the introduction of the two boxers to the press.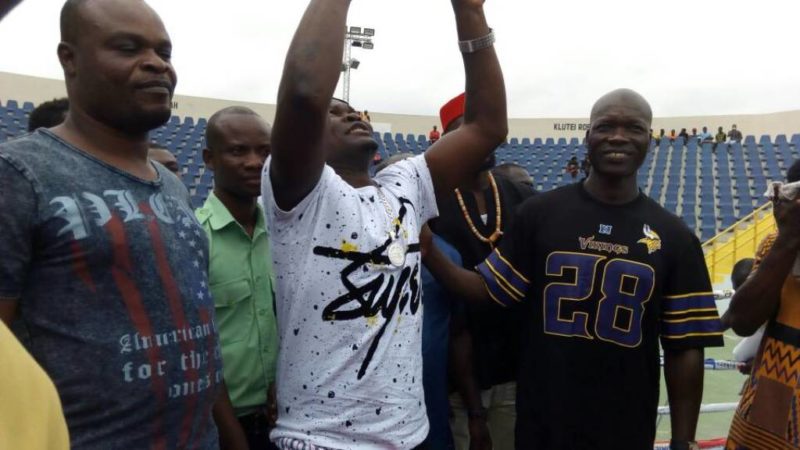 The news maker – Bukom Banku further reiterated that the newly built Trust Emporium is too small to contain his 100,000 fans who have promised to come and watch him live.
He also cautioned his supporters not to engage in any trade of insults with Bastie's fans.
Meanwhile, the greatest African boxer of all-time, the legendary Prof. Azumah Nelson, who was there to grace the occasion advised the two boxers to put up a good show that will sell Ghana boxing to the world come September 30, 2017.
Source: Sammy Heywood Okine