By James K. Attaglo Wilson
Matchroom chairman, Barry Hearn has urged Anthony Joshua to delay at least twelve [12] months before taking on Deontay Wilder in a world heavyweight title unification [WBO,WBA,IBF, and WBC] fight.
The Bronze Bomber [Deontay Leshun Wilder] sent a personal email to AJ assuring him that his backers had the money worth 35.9 million pounds for the much anticipated bout, but Barry Hear believes that a further delay could increase the figures in Joshua's favour.
The veteran promoter has placed his son [Eddie Hearn] in charge of managing Anthony Joshua's career, but insist he'll offer what he considers to be the smartest of advice to Eddie and AJ later today before the former fly to the USA for negotiation.
"I have a meeting with Anthony Joshua on Tuesday with Eddie, before Eddie goes off to New York.
"The decision is numbers – It's a numbers game and it has nothing to do with boxing. It's purely to do with that, that's what you get if you fight Alexander Povetkin, that is what you get if you fight Jarrell Miller, that's what you get if you fight Deontay Wilder in England, that's what you get if you fight Deontay Wilder in America.
"And I don't fight, so it's your call [referring to AJ] because you are the governor, you're running heavyweight boxing," Barry said.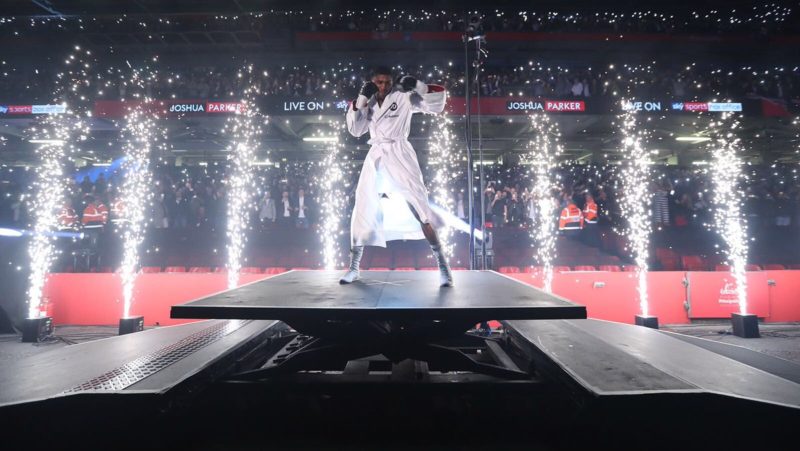 "If I was Anthony Joshua, I would be leaving that for a little while. Not because I'm worried about Deontay Wilder, but at this moment in time maybe I am looking at 500,000 to 600,000 pay-per-view buyers. In a year, done properly I might be looking at two million, two and a half million pay-per-view buyers," he adds.
"I said to Joshua – If you had six months to live I would say go and fight Deontay Wilder, take the most money, but if you are saying to me that you've got a legacy plan then I am saying let's capitalize on it properly," Barry cautioned.
"If you start letting the fans be the matchmaker you will end up being skint.
"When you talk about Anthony Joshua, I believe he is planning another eight years at the top.
"So if he is, and he takes that view, the only thing that can derail him is getting beaten. That fear of getting beaten is what pushes him in the gym every day.
"I just have the worry over whether I'm getting the maximum amount of money for my client, because that is my job. His [Anthony Joshua] job is knocking people down," Barry reiterated.
Anthony Joshua holds the WBO, IBF, and the WBA world heavyweight titles whiles Deontay Wilder has the WBC title.
Follow us on twitter @sports24gh|| Facebook – sports24gh|| Instagram – sports24gh
Email: sports24ghana@gmail.com|| info@sports24ghana.com
www.sports24ghana.com