What to make of Barcelona's La Liga opener?
Some of the Catalans' lineup and tactics will no doubt carry over into future matches, while the transfer window remains open for another 11 days and new signings are surely on the way.
In those respects, Barcelona's 2-0 win over Real Betis on Sunday at the Camp Nou wasn't altogether telling, but some glimpses of insight can be culled nonetheless.
The match started with a touching yet haunting moment as the clubs gathered in silence to honor the victims of the terrorist attacks in Barcelona that killed 13 people and injured over 120 more on Thursday.
Both teams took part in the commemorations, too. The home side wore jerseys that said "Barcelona" in place of the players' names, while Real Betis warmed up in shirts that read "El Real Betis amb Barcelona" in a show of unification.
While on a much smaller and more insignificant level, Barcelona's football club has been surrounded by discord in recent weeks, first with the groundbreaking departure of Neymar to PSG, followed by a humiliation at the hands of archrival Real Madrid in the Spanish Super Cup, and topped off by Luis Suarez's knee injury which has sidelined him for at least a month.
With two of the three all-time great attackers suddenly off the team sheet, manager Ernesto Valverde had some choices to make against Real Betis. His answers? For one, by returning Lionel Messi to the middle as a false nine after he typically played wider with Suarez and Neymar. For another, starting Paco Alcacer and Gerard Deulofeu on the wings and having them make runs for Messi, with Sergi Roberto operating essentially as an advanced central midfielder.
No one will confuse Alcacer or Deulofeu with Neymar as wingers — that much was clear when Deulofeu flubbed a relatively straightforward chance in front of net within the first few minutes — but eventually the partnerships produced positive results, especially with the midfield and defense resuming their roles as coils to bounce the attack back forward.
The game was decided toward the end of the first half in a hectic few minutes. Messi hit the post with a free kick only to work a gorgeous layoff to Deulofeu shortly after, with Deulofeu's cross taking a deflection off Alin Tosca and tucking inside the far post for the opening goal.
A minute after that, Real Betis striker Sergio Leon got in behind Barcelona center half Javier Mascherano and was one-on-one with keeper Marc-Andre ter Stegen. Mascherano's sliding challenge from behind was flawless, however, to deny the opportunity.
Deulofeu made the visitors pay immediately. He barely broke a sweat in dispossessing Real Betis defender Zouhair Feddel deep in his own end, then took two touches and slid a pass on a platter for Roberto to rocket home.
Alcacer's correct run, near-post to distract two defenders, shouldn't go unnoticed, either. The second half featured more of the same, with Barcelona linking up and generating chances going forward.
So it would seem Deulofeu and Alcacer grew into the game alongside Messi. The question is, how long will this be Barcelona's look?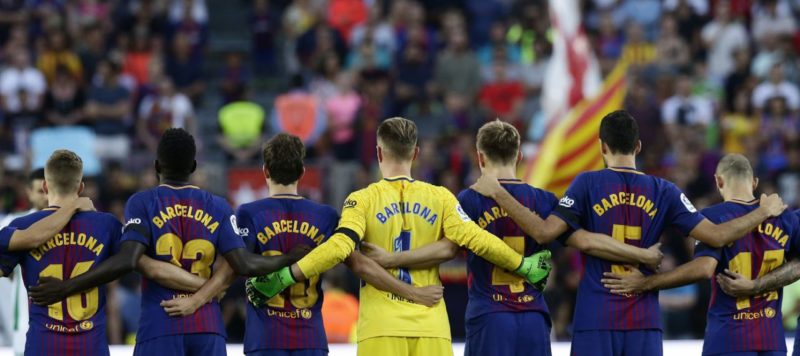 Suarez figures to be back within five weeks and he'll likely pair back up with Messi, as he did in the Spanish Super Cup. If Barcelona's rumored transfer targets are any indication, the club is looking for more traditional playmaking midfielders to roam behind the star duo.
Paulinho has already been signed, though documentation issues kept him unavailable for the Real Betis match. Rumors are rampant that Philippe Coutinho is not only a Barcelona target, but has made his desire for a transfer known to the higher-ups at Liverpool.
So perhaps Barcelona's history-making attack of the past few years will shrink back into a more traditional 4-4-2 or 4-2-3-1. Or perhaps Barca will sign Ousmane Dembele and try to re-create the three-up-front formula. There are also injuries to consider, with decorated veterans Andres Iniesta and Gerard Pique due for returns.
What Barcelona did against Real Betis was certainly good enough, and almost a disappointing commentary on Betis' own signings. The visitors packed the midfield with and featured new signings Victor Camarasa and Mexican international Andres Guardado, and still couldn't do much to slow down their opponents.
That's the new reality wherein Barcelona finds itself. The club has fallen comfortably (or uncomfortably) behind Real Madrid in the world pecking order, but pretty much every other team on the planet would trade their attackers for Messi and Suarez, not to mention all the La Liga- and Champions League-winning experience throughout the squad.
It's just a question of how it fits. That issue will change in the coming weeks. On Sunday, the answers were good enough.
Source: Joey Gulino| Yahoo