By James K. Attaglo Wilson
Talented-but-controversial Ghanaian playmaker – Bernard Morrison is reported to have completed a transfer from Young Africans Sporting Club to rivals Simba SC, but that move is only as good as stoking another fire for the midfielder as Yanga claim they still have a contract with Morrison.
The former Orlando Pirates midfielder [Morrison] has come under the media spotlight in recent weeks for the wrong reasons, from verbal tirade on Journalists to failing to comply with authorities who were 'tipped off' to search his vehicle for illegal narcotics.
There's been glowing turmoil between the Ghanaian midfielder Yanga SC.
Whereas Morrison claim he signed only six-month deal with Yanga after leaving Orlando Pirates and is said to have signed a pre-contract with current Tanzanian champions – Simba SC ahead of the 2020/21 campaign, Yanga SC on the other hand says they have a contract with the Ghanaian midfielder until 2022.
In view of that the club decided to keep Bernard Morrison despite overhauling 14 players from the club following a trophy-less season.
SPORTS24GHANA.COM reported that it was even alleged from close quarters that Morrison's recent run-in with local authorities was a ploy to ruining his reputation in a bid to put off potential suitors.
Morrison's unveiling pictures was all over social media on Saturday which forced Yanga SC to release a statement calling on their vociferous supporters to calm down and that their contract with the Ghanaian is active until 2022.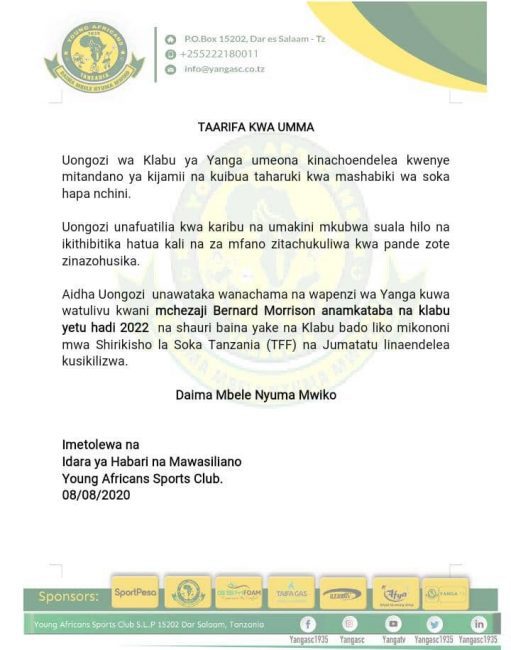 "The management of the Yanga Club has seen what is happening on social media and has sparked outrage among football fans in the country," the statement reads.
"The leadership is closely monitoring the issue and if proven and severe and exemplary action will be taken against all parties involved.
"In addition, the leadership wants members and supporters of Yanga to remain calm as player Bernard Morrison is contracting with our club until 2022 and the case between him and the club is still in the hands of the Tanzania Football Federation [TFF] and on Monday continues to be heard." the statement added.
Morrison left Pirates after two season in July 2018, when he infamously snubbed a move to Chippa United.
Simba SC has now become the seventh club of Bernard Morrison's professional career.
www.sports24ghana.com