Arsene Wenger has urged fans not to boycott tomorrow's Premier League home fixture against Sunderland as Arsenal's hopes of a top-four finish are still alive.
Several fan groups are calling on supporters with a ticket not to attend or resell their seat as a protest against the possibility of the Frenchman staying on as manager next season.
Wenger is yet to publicly declare his intentions as to whether he will agree a contract extension once his current deal expires next month and the situation continues to divide fans as the club sits in fifth place with an FA Cup Final against Chelsea to come.
Mark Halfpenny of Online Gooner wrote: "To offer Wenger a contract extension would be the safe option for them [the club], but it would guarantee at least two more years of stagnation, collapses and scrapping for the leftovers.
"We are calling on fans that feel the same way to boycott tomorrow evening's match against Sunderland. Don't sell your seat to a tourist or give it to a mate. Let yours be one of the many gaps in the stands that send a direct and unarguable message to the directors. You do not want to watch any more of the same old same old."
Asked by Standard Sport for his message to supporters considering the boycott, Wenger replied: "My message is always the same: it is to support the team."
Wenger, when pushed on the subject of empty seats at recent home games, said: "Yes, but that doesn't mean we are not sold out. I think we are always sold out, so I don't know where you get that impression."
Arsenal announce their attendances in terms of tickets sold rather than people actually inside the stadium on match days and fan groups estimate there could be in excess of 10,000 empty seats for the Sunderland game.
Arsenal must beat Sunderland and Everton this week and hope Liverpool slip up to Middlesbrough on the final day or that Manchester City lose one of their final remaining two matches against West Brom and Watford with a five-goal swing in the Gunners' favour if they are to finish in a Champions League spot.
Wenger added: "Our top-four chances depend on winning our games. We have 69 points, we can get to 75. That will be four points more than last year, so let's focus on finishing as well as we can."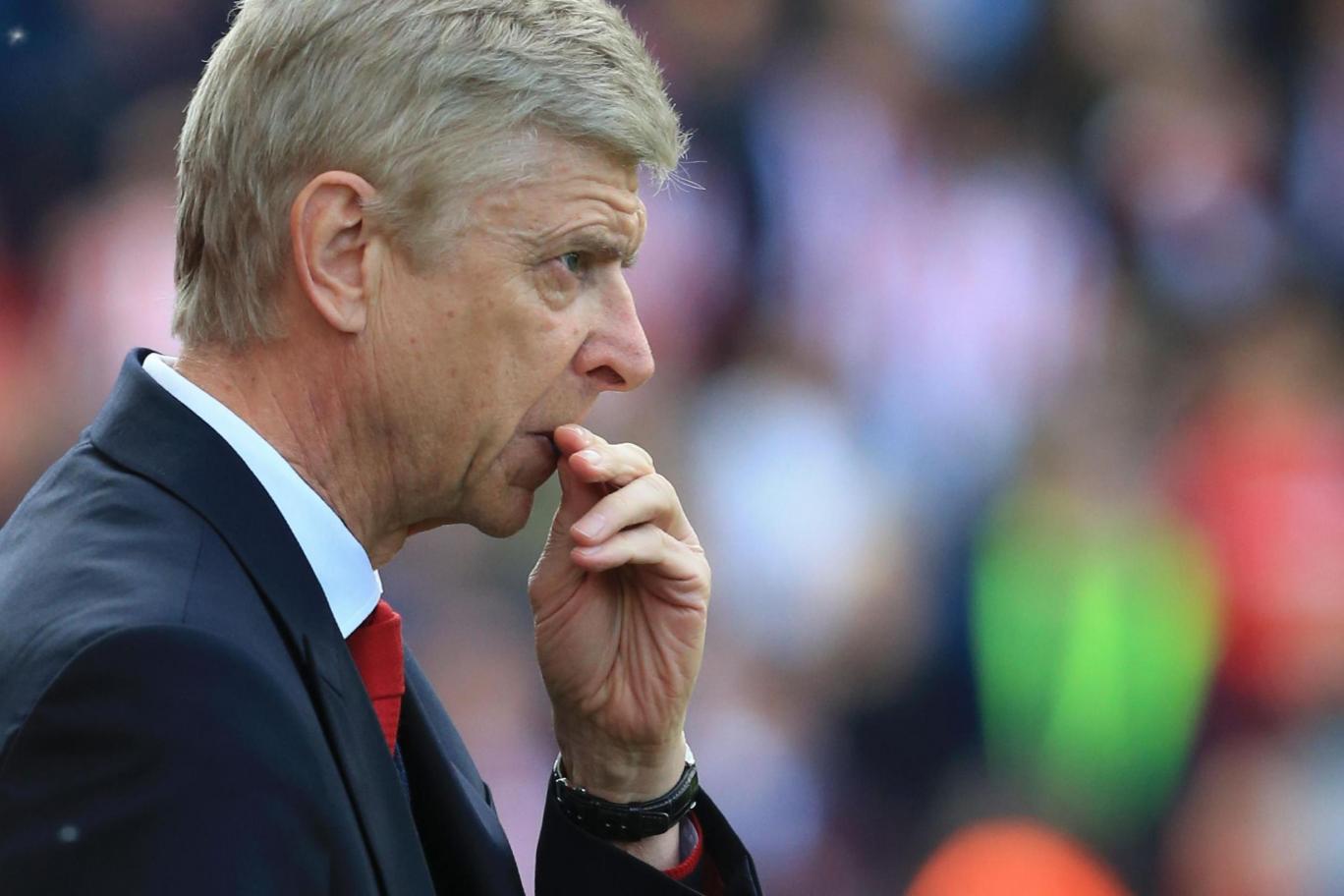 Wenger once again refused to answer questions about his future but insisted the club's summer plans would not be affected by a failure to secure Champions League football for the first time in his 21-year reign.
"I believe finishing outside the top four will not have any influence on the way the club will be led and how we will behave on the transfer market," he said. "If we finish outside the top four, it will maybe be down to one point.
"It would be difficult to swallow but that should not change the judgment on the quality of the team to a way where you think you have to change everything.
"It will mean just keeping the same focus to try to strengthen the squad. We know where it has to be and that's what the club will have to do."
Laurent Koscielny is a doubt with a reoccurrence of a calf problem, while Alexis Sanchez will have a fitness test after receiving a kick on his thigh in Saturday's win at Stoke.
Kieran Gibbs is available following a calf injury but Alex Oxlade-Chamberlain will miss Arsenal final two League games with a hamstring problem and is rated "80-20" to be fit for the FA Cup Final.
Source: James Olley