Andre Ward's eighth-round technical knockout of the previously perceived indestructible Sergey Kovalev on Saturday night was so convincing that Ward's trainer, Virgil Hunter, got swept away in the euphoria.
Hunter, at Ward's post-fight news conference, said Ward's interest in moving up in weight should "leapfrog the cruiser[weights]," and go straight toward two-belt heavyweight champion Anthony Joshua of England.
"I've seen some things we can do against Joshua. We wouldn't even have to put extra weight [on Ward] beyond what he walks around at, about 192 [pounds]. We'd just go right at him," Hunter said.
Ward improved to 32-0 with his 16th knockout by blasting Kovalev (30-2-1) with a devastating right-handed punch to the head in the eighth round before finishing him at Mandalay Bay by completing his masterful attention to body shots, prompting referee Tony Weeks to stop a keeled-over Kovalev.
The three-belt light-heavyweight champion from Oakland listened to Hunter's plans and cracked, "I used to think he was crazy. Now, I just follow his lead."
Hunter admitted afterward that while he does aspire for Ward to meet Joshua, a more reasonable path with HBO holding a late-fall date for Ward is to pursue an opponent like the in-negotiation Aug. 26 bout between the winner of Ward's co-World Boxing Assn. champion Nathan Cleverly and former super-middleweight champion Badou Jack.
World Boxing Council light-heavyweight champion Adonis Stevenson tweeted his interest in fighting Ward too, and although Ward has questioned the sincerity of Stevenson's lack of interest in previously taking on an underdog role against Kovalev, HBO and Stevenson's manager, Al Haymon, worked together on a May fight and a four-belt unification would be attractive.
Ward, 33, basked in the victory that served as an ultimate response to his narrow unanimous-decision victory over Kovalev in November on three 114-113 scorecards.
The triumph also served to quiet those who questioned him over his extended previous layoff during a nearly two-year battle to escape his contract with late Southland promoter Dan Goossen.
"We're Christian people, as everyone knows, and we've heard the pastor say, 'Woe be unto you if all men speak well of you,'" Hunter said. "How are you going to be forged into something if you don't have trials and tribulations? But as long as you're right, suffer under what's right.
"We took it all, and we kept working. He knows who he is, and he knew in a matter of time, we'd be back in the groove."
Ward at this minute longs to be considered boxing's No. 1 pound-for-pound fighter as unbeaten three-belt middleweight champion Gennady Golovkin awaits his Sept. 16 showdown against Canelo Alvarez.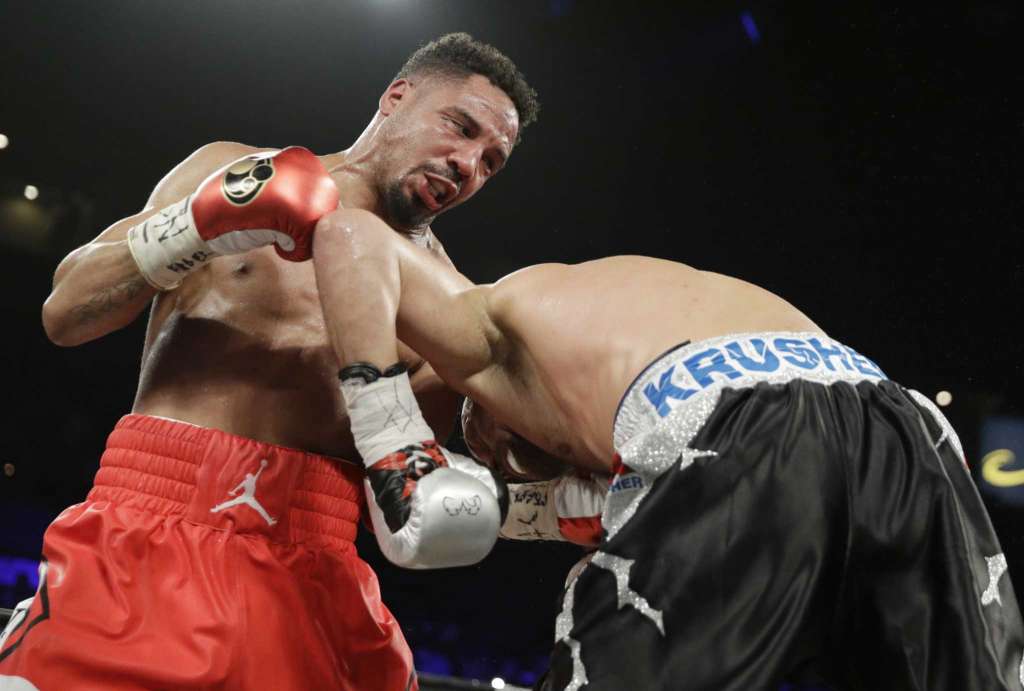 Ward said Hunter trained him to beat Kovalev by knockout, and after enduring the Russian's effective jab and strength early on, he swept the fourth and sixth rounds on judges' scorecards while pursuing Kovalev's belly and leaving the former champion showing signs of fatigue.
"Once I fought him once, my brain is like a computer and I was able to do some quality new things," Ward said. "It's nip and tuck, not a lot that separates you in these kinds of fights. So it takes … six rounds for the game plan to unfold. We both were breathing [heavily] in there, but I'm comfortable being uncomfortable. That's how I train.
"I knew he was going downhill round by round. The body shots were getting to him. He was grunting inside. … I knew this fight would be better."
Instead of tipping their hat to Ward, Kovalev and his team opted to vent at referee Tony Weeks — who had cautioned Ward to watch how low his punches were going during the fight — saying he had spoiled the outcome by allowing Ward to hit low and then stopped the fight prematurely.
"I believed in Tony Weeks, but he made the wrong decisions," Kovalev said. "Who knows who would get the victory if they didn't stop the fight and the illegal stuff. [Ward] is a dirty fighter."
Kovalev promoter Kathy Duva went as far as saying she'll protest the outcome, but the complaints seemed bred from the fact that Kovalev is Duva's only elite marketable fighter.
Ward won the right to leave Kovalev in his wake, saying, "Guys, we're not going to nitpick tonight over whatever their excuses are. … . No third fight. That's out."
As for the idea of Joshua, Ward said, "It's a dream. I know it sounds crazy, but … I do really well against bigger fighters because of my stamina and because I'm strong."
Like it or not, Kovalev can testify to that.
Source: Lance Pugmire| LA Times