An 8-year-old Manchester United fan who was handed a runners-up medal by manager Jose Mourinho after the UEFA Super Cup says he wants to win the Ballon d'Or before he turns 20.
United were beaten 2-1 by Champions League holders Real Madrid in the match in Skopje on Tuesday, much to the dismay of United fan Adedeji Odumboni, who had made the 16-hour trip from Bristol, UK, with his older brother, Adedire, and father, Ibrahim.
He and the two boys had traveled to watch the game by plane from London Stansted to the Bulgarian capital, Sofia, and then made the six-hour drive over the border to Skopje to watch their beloved team.
But after the final whistle at the Philip II Stadium, Adedeji's spirits were lifted when United manager Mourinho made his way over to his place in the stands, handing him his runners-up medal.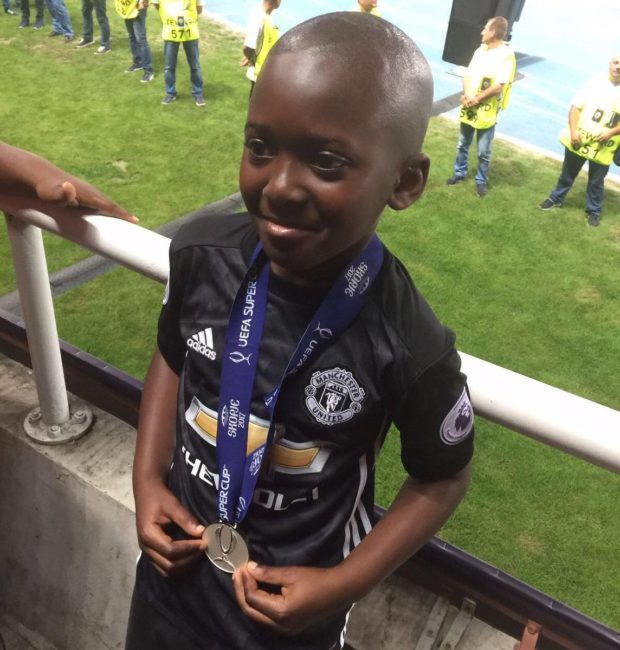 "At the end of the game the boys were disappointed that we didn't win. We thought we've made this 16-hour journey to watch the match, we may as well watch the medal presentation and see the players on their lap of honour," Ibrahim told ManUtd.com.
"So we stayed to watch it and the next minute Jose was walking towards us – I didn't know what he was going to do and then he stretched out to give the medal to him."
"He didn't say anything – Jose just gave him a nod and Adedeji said thank you. It was a consolation for not winning the match, I guess. It was fantastic for the kid.
"It was quite unreal for Adedeji," he added.
"After there were quite a lot of people surrounding him and taking photos – it's not what we're used to. We're used to just watching the game and going away quietly, but this time around we could not leave quietly."
Ibrahim told of how his son has an upcoming trial at United's Premier League rivals Southampton and had made a special promise to his father after being handed the medal.
"But when I asked him about what getting the medal means, he was excited but said 'I just want to win my first Ballon d'Or before I turn 20'," Ibrahim said.
Mourinho later explained his decision to give away the medal, claiming it meant more to the child than to him.
"Sometimes when I win, I don't keep the medals – so imagine when I lose!" Mourinho said.
"For me, the medal would go to some place in my house; for that kid, it's the moon – something to keep and remember."
Current Ballon d'Or holder Cristiano Ronaldo made a cameo appearance in the match, coming on as an 83rd minute substitute against his former club with the match at 2-1.
Source: RT