By El-Amisty Nobo|| Follow Amisty on twitter @ElAmistyNobo
The Accra International Conference Center [AICC] was filled with art of tradition and an ecstasy of gold as the Sports Writers Association of Ghana [SWAG] marked its 43rd Awards Night.
As accustomed to the tradition of the SWAG Awards various athletes who excelled in their various fields of endeavour were honoured for their excellence.
In the end, Isaac Dogboe – newly crowned WBO world super bantamweight champion was named the Sports Personality of the Year.
The pictures below depict the glitz and buzz of the 43rd MTN SWAG Awards Nite: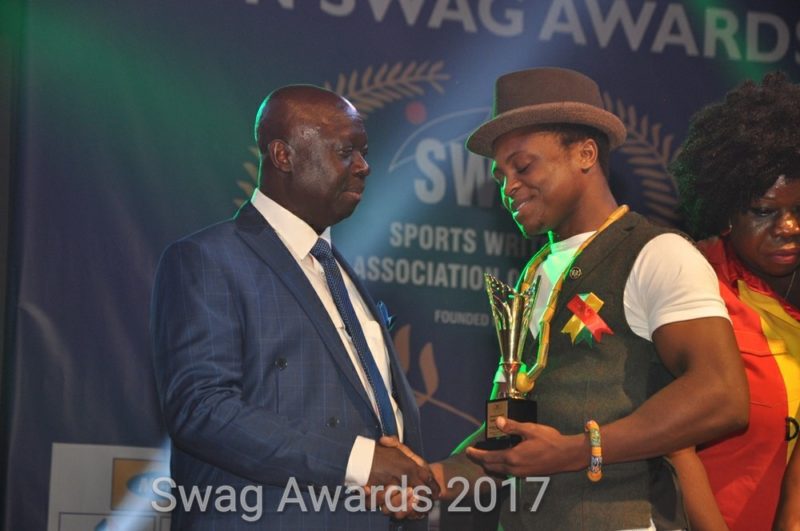 Below are the award winners in full:
SWAG personality of the Year – Isaac Dogboe
Footballer of the Year [FORIEGN] – Thomas Teye Partey
Footballer of the Year [LOCAL] – Thomas Abbey
Most Promising Star – David Abanga
Para-Athlete of the Year – Haruna Tahiru
Kickboxer of the Year – Alhassan Okine
Cyclist of the Year – Anthony Boafo Danquah Boakye
Volleyball Player of the Year – Richard Amanor
Male Badminton Player of the Year – Emmanuel Yaw Donkor
Badminton player of the Year – Grace Atipaka
Weightlifter of the Year – Christian Amoah
Player of the Year – Salia Nsabila
Association President of the Year – Hebert Mensah
Coach of the Year – Yusif Abubakar
Dedication & Valour – George Bankole [Handball], Coach Ofori Asare [Boxing]
Discovery of the Year – Suzzy Dede Teye [Ladystrikers/ Black Maidens], Isaac Nii Amugi [Armwrestler]
Golfer of the Year – Vincent Torgah
Female team of the Year – Ampem Darkoa Ladies
Special Awards – Alex Asante, Dr. Kojo Benjamin Taylor, Dr. Martin Engman, Dr. Paa Kwesi Ndoum
Follow us on twitter @sports24gh|| Facebook – sports24gh|| Instagram – sports24gh
Email: sports24ghana@gmail.com|| info@sports24ghana.com
www.sports24ghana.com