Keep your programs tight and your neck clasps tighter.
That should be the big takeaway for ice dancers at this year's Olympics. Ten days after a wardrobe malfunction almost sunk a South Korean couple, the French pair of Gabriella Papadakis and Guillaume Cizeron suffered an embarrassing gaffe during Monday's short program.
Considered to be one of the favorites to win the gold medal, the duo had to perform as Papadakis had the clasp on the back of her uniform break about 10 seconds into the routine and she struggled to keep her top from falling down.
Though she tried valiantly, it was ultimately a losing proposition. Papadakis' left breast was exposed near the end of the program and it was broadcast live on NBC.
"It was my worst nightmare happening at the Olympics," Papadakis said afterward. "It happened in the first few seconds [of the routine]. I told myself I didn't have a choice; I have to keep going."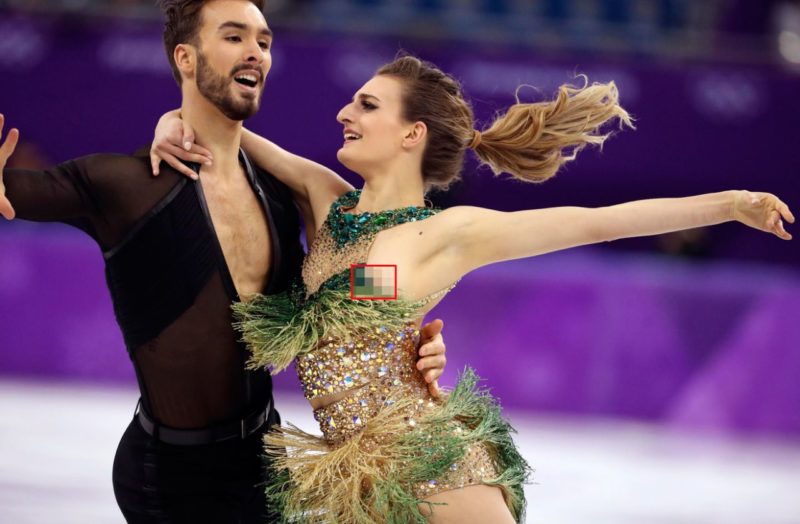 Papadakis deserves all the credit in the world, though. Despite that awful luck and circumstances, she and Cizeron were still able to post a score of 81.93, good enough for second behind Canada's Tessa Virtue and Scott Moir, who set a world record with a score of 83.67.
The free dance will be held on Tuesday in South Korea.
"It's crazy that can take you out of contention for a gold medal, but it's ice skating," NBC analyst Johnny Weir said afterward.
Yura Min and Alexander Gamelin had to battle a similar situation during the team figure skating competition on Feb. 11 but Min's top never came off. The pair returned on Monday with Min wearing the same outfit but with a reinforced clasp on the back. The pair posted a 61.22 in the short program, which put them 16th overall.
Source: Kevin Kaduk|| Yahoo
www.sports24ghana.com