Serena Williams' signature move has always been to display grace under pressure, to pivot away from the mundane toward the metaphysical, to plant her feet firmly in her most inspired authentic self.
And so it came as no surprise that a couple of days after her disappointing loss to Naomi Osaka at the 2018 U.S. Open, she seemed remarkably unfazed by all the drama that had unfolded some 48 hours earlier. As she sat for a photo shoot and interview with Adweek in a Hell's Kitchen loft in Manhattan, this year's Brand Visionary thoughtfully reflected on her victories off the court.
"I just feel like sometimes, for whatever reason, anything that I do gets amplified, and so I use it for my brand," Williams says. "I use it to promote messages that are affirmative, like 'you are strong, brave, proud, great' and all those things that I feel like I'm in a position to not only express playing tennis but can also be expressed in my fashion line and other products."
Indeed, surpassing the familiar roles of tennis champ or celebrity athlete, Williams is a businessperson, defender of the downtrodden, designer, investor, channeler of parenting advice, the icon onto which millions of people project their expectations of African Americans, women and sports stars—and, of course, a branding tour de force. Williams, 37, represents products across multiple industries, from sportswear (Nike), tech (Beats) and beverages (Gatorade) to finance (JPMorgan Chase), and has collaborated on products with the Home Shopping Network. In May 2017, she joined the board of SurveyMonkey. And later that year, she was named chair of Oath's board of advisers, bringing with her a determination to leverage the Verizon subsidiary's platform "to make change."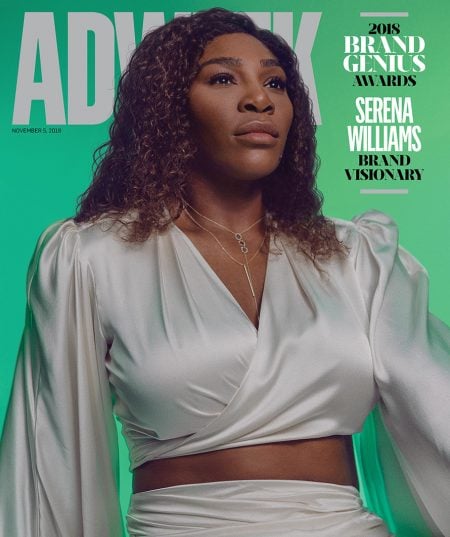 Says Vogue editor in chief and Condé Nast artistic director Anna Wintour, Adweek's 2017 Brand Visionary: "Any conversation about Serena's brand must start by noting her outstanding accomplishments—not just what she's achieved, but how she's achieved it. With determination and perseverance and talent and power and relentlessness, yes, but with a kind of grace on and off the court. … And to be so unflinchingly honest, as Serena has been, about the challenges of motherhood and tennis speaks to more than just authenticity. It's about heart, and confidence, and true courage."
The most public culmination of Williams' success is perhaps Being Serena, a five-part HBO docuseries that delved into her professional and personal life, including her marriage to internet entrepreneur Alexis Ohanian, co-founder of Reddit, her life-threatening pregnancy and the rough journey back to elite competitive form, post childbirth. The series went far in capturing the heart of her robust appeal. At turns tough yet tender, tenacious but vulnerable, Williams is revealed as a complex cultural icon and brand who resonates with everyone from Boise soccer moms to Harlem b-boys and b-girls. The '90s might have been the "Be Like Mike" era, but Serena Williams is all the rage these days, the new archetype of the modern celebrity athlete shifting away from Cool Super Jock to Impassioned Citizen of the World.
"Serena is redefining what it means to be a celebrity athlete," notes Kristin Lemkau, chief marketing officer at JPMorgan Chase. "[Athletes] are not just renting their name to companies anymore. They are speaking their truth. And to be our partner, we now expect them to believe in our mission. Gone are the days of having you just show up, do your bit in our ad and leave."
Amazingly, Williams has accomplished all of this while building an epic tennis legacy. She has, among other feats, won 72 career singles titles, 39 Grand Slam titles (23 of those for singles, to tie Steffi Graf) and four Olympic gold medals. She's been ranked No. 1 in the world for singles by the Women's Tennis Association eight times and raked in more than $88 million in career prize money.
Steve Simon, CEO of the Women's Tennis Association, has had a ringside seat for Williams' evolution into a business-minded celebrity athlete and social-justice champion. "I've known Serena a long time and not only does she have a very keen business mind," he says, "she's very interested in doing the right things on issues related to social responsibility, whether it's on motherhood, race, domestic violence or equality."
Williams' latest passion: the world of venture capitalism—or, more specifically, identifying promising African-American women entrepreneurs to back. "I invest mostly in women, because I found out that women get less than 2 percent of funds raised by venture capitalists. If I can … introduce these women with great companies to other people, I feel like, wow, we can make a little bit more noise," says Williams, who has close to 30 companies in her portfolio. Her focus on African-American entrepreneurs is just as purposeful. "There are so many African-American people who have great ideas," she says, and they are often overlooked "because of the color of our skin."
Williams' drive and fierce sense of responsibility can be traced back to her dad, Richard Williams, who insisted that she and sister Venus at a young age be fearless, full participants in life beyond tennis, to be socially conscious but also business savvy. Mastering the principles of business, Serena learned, would give her the financial freedom she needed to express her true self and support the causes she believed in. She was 14 years old and had just turned pro when her father took her to negotiate her first major business contract, an endorsement deal with Puma.
"He had me in the room with all the execs," she recalls. "I remember sitting at this massive board table and falling asleep because it was after midnight. But he wanted me to be in on the negotiations and know the ins and outs of business, to understand how things operate and how to be successful in business."
That first contract with Puma came amid several other early endorsement deals, with companies like Avon, Wrigley and McDonald's. By 2003, Williams had signed a staggering five-year, $40 million deal with Nike. She was already developing a reputation for being decidedly hands-on in shaping her image and brand. Mindy Grossman, Nike's vp for global apparel at the time and now CEO of Weight Watchers, recalls Williams, aided by company designers, hatching all sorts of funky ideas in her early years—from Nike athletic boots to a pleated denim tennis skirt (with patented wicking technology). "Serena has always had the ability to have a point of view and live it," Grossman says. "There's a clarity of consistency of what she stands for and who she is."
Fast-forward and Williams is, by her own description, "insanely involved" these days in tailoring her brand image to her interests and sensibility. Take the recent 2018 Paris Open, when she made headlines by sporting a sleek, black Nike catsuit, a collaboration with fashion designer Virgil Abloh, styled to prevent the blood clots that plagued her during childbirth. The form-fitting outfit was promptly banned by the French Tennis Federation, a decision that Williams took in stride—following up with a Nike-designed black tutu skirt. (As Nike put it in a tweet, "You can take the superhero out of her costume, but you can never take away her superpowers.")
In May, she launched a fashion line, Serena, intended to empower women—a 12-piece collection ranging from chic to sexy apparel with prices from $35 to $250. The inspiration for the line? "Femininity and strength," she says.
The Serena line marks Williams' first independent fashion venture, and as with everything she does, she is fully committed. "You have to have a plan in terms of revenue, and so far we've been sure to meet it every month, which is important to keep the business going," says Williams. It doesn't hurt that she has high-visibility friends who enjoy the brand. Last month, Meghan Markle, Williams' good friend, rocked a $154 Serena plaid blazer, complemented by a white shirt and black jeans, on a royal tour of Australia with husband Prince Harry, and the item sold out instantly.
In addition to carefully developing her own brand, Williams also finds time to help those in need. The Williams Sisters Fund, co-founded with Venus, focuses on their hometown of Compton, Calif. It established, for example, the Yetunde Price Resource Center—named for their half sister, who was killed in 2003 in a drive-by shooting in Compton—to serve victims of senseless violence. Since 2011, Williams has served as a Unicef international goodwill ambassador, supporting the organization's Schools for Africa and Schools for Asia initiatives and bringing attention to maternal mortality rates in poorer countries.
"I've always stuck up for the downtrodden or the people that aren't in as fortunate a position," Williams says. "I feel like the vessel for that, for whatever reason, and I'm going to continue to create that awareness and try to create true equality for everyone."
Giving birth to her daughter, Olympia, in September 2017, has dramatically altered Williams' self-perception and, by extension, her choice of messages and sometimes even the medium. For the Beats by Dre commercial "Queen of Queens," she dramatizes the conflict women face as they're expected to choose between career and motherhood, power and traditional notions of femininity. The spot, which featured a guest appearance by Nicki Minaj—"Now watch the Queen conquer," she raps at one point—aired as Williams advanced at the U.S. Open.
"We spent a whole year waiting for the right moment to speak about the personal conflict of motherhood and world-class athletics," says Jason White, head of marketing for Beats by Dre. "The first time we met about the idea, we just sat and talked while she held Olympia. Olympia was tiny. We talked for hours about the pressure, the joy and the desire to return. After Wimbledon, we all felt the U.S. Open was the moment to say something. … As for the art direction, Serena signed off on all of it and had input on much of it. She even asked us to send her the pink dress!"
JPMorgan Chase also aired a powerful motherhood-themed ad during the Open: #ThisMama showed Williams at home with baby Olympia and smashing serves on the court, with the lyrics to LL Cool J's "Mama Said Knock You Out," sending the message that this champ is far from finished.
Some of Williams' best campaigns still simply draw from her highlight reel. A couple of years ago, to great fanfare, Gatorade commissioned a mural as part of its "Serena 21" art series, which celebrated her then 21 Grand Slam championships. The public art project, designed by New York-based creative agency Vault49 and painted on the corner of Kent Avenue and Grand Street in Williamsburg, Brooklyn, included 21 paintings of Williams' various achievements. "Serena's life is watched closely by her fans, so we've tried to celebrate milestones in her life," says Jeff Kearney, global head of sports marketing for Gatorade. More recently, Williams and other athletes, including LeBron James and Odell Beckham Jr., joined former NFL quarterback Colin Kaepernick in Nike's monumental "Dream Crazy" spot celebrating the 30th anniversary of "Just Do It."
Williams is proving that in many cases she doesn't need glitzy campaigns to communicate powerful messages. Few athletes—or celebrities, for that matter—are as adept as Williams at leveraging social media to deepen their connection to fans and appeal to new audiences who share their interests and values. And Williams does so seemingly without repercussion, posting on #MeToo and Black Lives Matter, African-American women's mortality rates and gender bias to a wide audience: nearly 11 million followers on Twitter, 10 million on Instagram and more than 5 million on Facebook.
"In 2004 or 2005, we didn't have these amazingly huge platforms like Instagram, Facebook or Twitter that are on such a global scale, and we couldn't reach the amount of people we can reach instantly today," Williams notes. "Before, if we wanted to make a point, we would have to call a press conference or meet with a journalist and give an exclusive. But I feel like now, because myself and other people have this technology, we've been able to bring out things that I've always said, but on a greater scale."
After the arrival of her daughter, Williams began sharing not just the triumphs but also the uncertainties, self-doubt and tribulations of being a mom, using the hashtag #ThisMama and inspiring other parents to tell their stories and swap child-rearing tips. "It's an opportunity for people to see that, first of all, I'm not superhuman," Williams says. "I'm just like them. And … sometimes I'm super sad going to the court."
Such honesty only deepens her appeal both to fans and to brands. "Serena is connecting outside of tennis and Nike fans to a broader base who might have nothing in common with her except that she is authentic and real," says Denise Kaigler, a brand strategist who has worked with such companies as Adidas, Reebok and Nintendo. "She is connecting as a mother, entrepreneur and wife with everyday people."
In the Manhattan loft where her cover shoot is taking place, the tirelessly ambitious Williams pauses to consider the remarkable opportunities and victories that still lie ahead. She says she's inspired by the idea that her best work is yet to come, that she'll build more schools, empower more women, win more tennis matches. These days seem to beg for a champion—a people's champion—and she has come to embrace that maybe it's her.
Source: Ron Stodghill
www.sports24ghana.com