Nigeria's Super Falcons stars are back in the country following the conclusion of the 2018 Women's Africa Cup of Nations (AWCON).
The continental tournament ended on Saturday, December 1 with Nigeria victorious yet again.
The Super Falcons beat the Bayana Bayana 4-3 on penalties in the final game of the tournament as they lifted another continental crown.
According to a statement by the Amaju Pinnick led Nigeria Football Federation (NFF) the Super Falcons have landed in the ccountry.
The NFF confirmed their arrival through a picture and message on their official Twitter account.
The message said, "The Champions have landed in Abuja! #SoarSuperFalcons #Team9jaStrong"
According to several reports, the Super Falcons are set to meet the President Muhammad Buhari led adminstration.
President Buhari who is out of the country sent a congratulatory message to the team following their achievement.
A statement on the presidents official Twitter account lauded the efforts of the NFF and the players.
The statement said "Congratulations to the Super Falcons on their AWCON18 victory over the Banyana Banyana of South Africa tonight.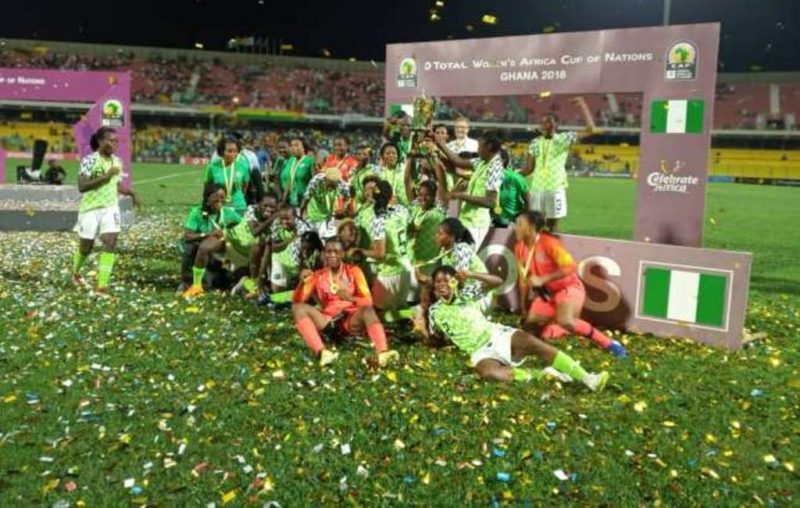 "First they qualified for the World Cup in France next year, then tonight added the icing on the cake: winning AWCON for the 3rd consecutive time, and 9th time overall."
According to a report by Complete Sports, Alhaji Abba Kyari Chief of Staff to the President was the top official that received the Super Falcons.
Other dignitaries at the occasion included Honourable Minister for Women Affairs, Hajiya Aisha Abubakar and NFF General Secretary, Dr. Mohammed Sanusi.
In the report the minister complemented the Super Falcons for their efforts in the tournament.
She said, "On behalf of Mr. President, who is not in the country at the moment, we say welcome and well done to you."
Dangoite, Rabiu give Super Falcons money
She also went on to reveal that the Super Falcons had received donations which according to the NFF were from Aliko Dangote and Alhaji Abdulsamad Rabiu.
"We are proud of you and your representation of the country. In fact, as we were leaving the airport, two eminent Nigerians called and donated the sum of N50million and N25 million respectively to your team.
Please rest very well. We will get back to you with the activities lined up for you in the coming days."
The Super Falcons are expected to be rewarded for their achievements by the Federal government as the Pinnick led NFF earlier promised a token of N3.6m for their victory.
Source: Tosin Abayomi
www.sports24ghana.com